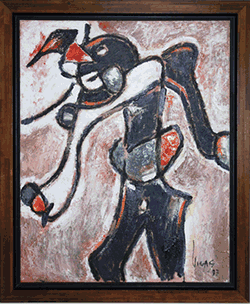 September 30, 2011
The financial institution has brought together works by artists from around the region.
(Caracas, September 30, 2011) .- CAF - Latin American development bank - received in its headquarters in Caracas, art critics and cultural journalists who had the opportunity to appreciate the contemporary Latin American art that the institution has collected for the exhibition.
The show includes works by prominent artists from most of the countries in the region, including Oswaldo Guayasamín, Alfredo La Placa, Edgar Negret, Francisco Narváez, Carlos Cruz Diez, Bruno Widmann, Fernando De Szyszlo and Jesús Soto, among many others.
"As part of its commitment to regional development and integration, CAF has chosen artistic expression as an important means of deepening relations and cultural exchanges between its partner countries, united by their Latin American essence," CAF Vice President Luis Enrique Berrizbeitia said.
Among the critics who participated in the visit were Maria Elena Erminy and Perán Ramos, art critics; Juan Calzadilla, director of the National Art Gallery; Luis Miguel La Corte, Galería La Cuadra; FIA Director Nicomedes Febres; Rafael Romero, director Cisneros Foundation; Fernando Rodríguez, director of the cultural page of Tal Cual newspaper; and the artist Samuel Baroni, painter of one of the lions sponsored by CAF for the 444th anniversary of the city of Caracas.
Critics noted the diversity of the representative collection of modern and contemporary art in the region "the connecting thread has been to assemble works that represent the richness of Latin American plastic art," Mariela Provenzali, curator of the CAF Gallery, said.
The guests could also appreciate the ENVIRONMENTS exhibition, currently open to the public in the CAF gallery until Sunday October 9, where Colombian artists Carlos Chacín, Ximena De Valdenebro and Nohemí Pérez present three views of contemporary art in their country.