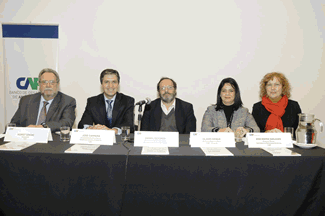 CAF publication proposes social policy challenges for improving inclusion and equity
September 23, 2011
The book "Social Policies to Promote Citizenship and Social Cohesion" was launched in Montevideo
The event was attended by CAF Vice President of Social and Environmental Development José Carrera, and Uruguayan Social Development Minister Daniel Olesker.
(Montevideo, September 23, 2011).- The book "Social Policies to Promote Citizenship and Social Cohesion" was launched with the presence of José Carrera, vice president of social and environmental development at CAF - Latin American development bank; Daniel Olesker, minister of Social Development and special guests. The book is the first volume of the series "Reflections on social and environmental policies" published by the multilateral organization.
The work looks at the need to make institutional changes in order to adapt to the new realities of the region and achieve better results in implementation of social policies.
The vice president said, "As part of CAF's social strategy for promoting inclusion and equity, the institution publishes works on fundamental issues for the development of the region such as the one we present today." "These contributions are tools we provide to help our partner countries define public policies, and are part of our institutional work and role as an independent think tank," he said.
Olesker said there were three keys in social policy, namely access, use and quality of public social services. Uruguay has made great strides in access which is "almost universal in health and education." This has been "the government's initial priority," but "we now have to go deeper into removing limitations on use and improve "the homogeneity of the quality" of services.
The study's authors, Horst Grebe and Ana María Sanjuán, say "it is not easy for the traditional institutions to deal with the need to reconstruct and democratize the State, channel priorities and the new ways in which social movements act politically, incorporate issues of rights and citizenship in polarized societies, and understand that the approach to social exclusion is much more difficult than decades ago."
The publication notes that countries where public spending has a greater redistributive effect are those that developed state social services early on and have achieved higher levels of coverage of the basic services of education and health: Argentina, Chile, Costa Rica and Uruguay.
The authors highlight the fact that lack of an integrated approach to social action, promoted at official level, leads to contradictions and deepens poverty and inequity. They point out that the principle of universality states that the basic social services provided by the State are the rights of citizens, rather than services or goods.
Another point the book makes is that advancement of a universal social policy requires a "fiscal pact" to raise public revenue and convert tax policy into a more progressive instrument.
The complete publication is available at http://www.caf.com/attach/15/default/politicas_sociales.pdf