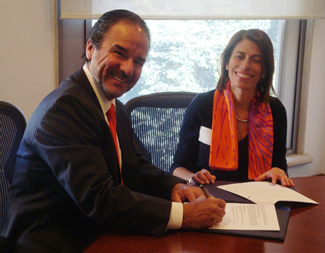 With CAF support, the Private Competitiveness Council will launch the national awareness strategy
September 29, 2011
The two institutions signed a technical cooperation agreement to bring the issue of competitiveness to all parts of the country.
(Bogotá, September 29, 2011).- CAF - Latin American development bank - and the Private Competitiveness Council (CPC) signed a technical cooperation agreement for the design and implementation of a communications strategy to create awareness of competitiveness in Colombia, and disseminate and stimulate alternatives to improve indicators and overcome barriers to economic growth. The Council will use online and offline channels to explain this strategy to actors in the national government, territorial governments, private sector, academia, and particularly in the civil population.
The funds from the agreement will be used for specialized consultancy work to develop strategies to attract and involve interest groups in issues related to competitiveness, design specific media to disseminate proposals to overcome barriers to economic growth and improve Colombia's competitiveness, as well as raising awareness of the importance of productivity and competitiveness for the country.
"Strengthening the competitiveness of the 18 CAF members countries is a priority for us, which is why we support this initiative which aims to contribute to the success of the mission of the Private Competitiveness Council by developing strong communication channels with the agents involved in building national competitiveness," Victor Traverso, director representative of the multilateral bank, said
"Our goal is to make Colombians take on board the need to make the country more competitive. This really is a matter that concerns everyone: from the business leaders and senior levels of government to ordinary people who could benefit from a more competitive economy; for example, accessing better products and services at lower prices, or working in organizations that offer greater opportunities for growth and learning. We will make effective use social networks and other communication tools to create this interaction with different actors on the issue of competitiveness," Rosario Córdoba, president of the Private Competitiveness Council, said.
The project aims to position the Colombian competitiveness agenda at regional, national and international level, disseminating the Council's public policy proposals, and promoting their acceptance by all actors involved.