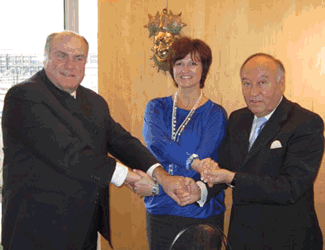 Agreement brings French funds for infrastructure projects in Latin America
October 10, 2011
A EUR150 million loan agreement was signed today by the CAF president and the director general of the French Development Agency (AFD).
European Commission makes grants to mass transit projects which have a positive impact on the environment.
(Paris, October 10, 2011) .- As part of the partnership established in 2009, CAF - Latin American development bank - and the French Development Agency (AFD) signed a loan agreement for EUR150 million today in Paris to finance energy, transport and water and sanitation projects in the region.
The agreement was signed by Enrique García, CAF president & CEO, and Dov Zerah, AFD director general. After the signing García emphasized the catalytic role that the institution he heads has been playing. "This is more important at a time like the present when Latin America is at a crossroads critical for its future, with opportunities and challenges for countries which need to strengthen infrastructure, among other areas."
The CAF chief noted the commitment his institution has made to Latin American integration. It is the main source of infrastructure financing in the region with over US$30 billion invested over the past 10 years, he added.
Studies for mass transit plans receive contribution
In Paris, Enrique García, Dov Zerah, and Jolita Butkeviciene, director general for Latin America of the European Commission, signed an agreement which grants EUR3 million for research in the region on mass public transit projects with a positive environmental impact. The contribution is part of the support the European Commission provides through the Latin American Investment Facility (LAIF).
LAIF supports Latin American countries in their fight against poverty, efforts to achieve social cohesion, sustainable development and economic growth. The facility is a financial mechanism that combines EU subventions (non-reimbursable funding from the European Commission and other donors) with loans from European public development finance institutions, multilateral or bilateral, and regional financial institutions in Latin America.