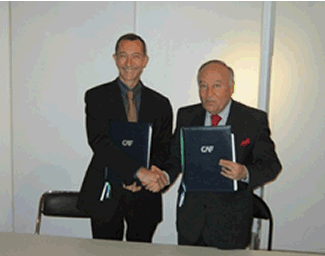 Agreement signed with Syctom for cleaner cities in Latin America
October 12, 2011
The two institutions signed an agreement in Paris to help CAF shareholder countries improve their integrated solid waste management.
In Paris, 85 municipalities have joined together to solve the garbage problem, an experience that merits replication in our region.
(Paris, October 12, 2011).- Latin America, a region where 70% of the population is urban, is undisputedly a territory where the problem of solid waste is an important priority, especially since most of its cities are still looking for an efficient solution.
Based on this premise, CAF - Latin American development bank - and the Paris Metropolitan Agency for Solid Waste Treatment (Syctom) signed an agreement to maintain close cooperation on matters related to integrated solid waste handling and management.
Enrique Garcia, CAF president & CEO, said with this cooperation agreement "our region will benefit from the experience and knowledge of the best available practices applied in Paris to properly manage solid waste through an integrated management approach." "The success of this type of initiative has a direct impact on people's quality of life."
In Paris, one of the world's most popular tourist destinations, waste management is being tackled collaboratively in a way that prioritizes the wellbeing of the community. The building of this consensus based on understanding and unity has led to the design of a plan agreed by 85 municipalities controlled by a range of political tendencies, which is having a positive effect on every citizen in this great city and its many visitors.
The fields of action covered by the agreement include preventing production of waste, promoting recycling of organic and solid waste, use of techniques available for protecting the environment, and improving the integration and infrastructure of urban ecology in order to provide a quality service.
Syctom is a pool of municipalities which, setting aside their political agendas, have addressed the issue in a serious and organized way in an effort to ensure that Paris is a recognizably clean metropolis, committed to appropriate environmental management.