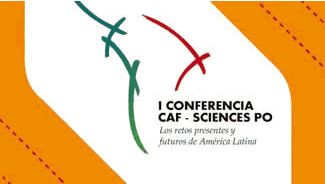 CAF and SciencesPo open their first annual conference on Latin America in Paris
October 11, 2011
Maison de l'Amerique Latine welcomed over 300 people to the first CAF-SciencesPo conference.
(Paris, October 11, 2011). CAF and SciencesPo opened their first conference on the challenges and future of Latin America with over 300 participants, including French authorities, diplomatic corps, business executives, journalists, academics and students.
The meeting was opened by Enrique García, president & CEO of CAF - Latin American development bank; Richard Descoings, rector of SciencesPo; and Dov Zerah, director general of the French Development Agency.
In his opening remarks the CAF president said "this annual conference creates an important space for dialogue and reflection at the highest level on relations between Latin America and Europe, and on major regional issues in the context of an uncertain international financial outlook and its potential adverse effects on developed and emerging economies."
García said the activity was part of the strategic partnership with SciencesPo, one of Europe's most prestigious academic centers. He stressed the dynamism that relations with France have achieved, and the growing mutual interest in working on core areas for sustainable development and regional integration.
Descoings emphasized the importance of the meeting and SciencesPo's commitment to expanding its projection in Latin America through academic exchanges, university cooperation and partnership with key stakeholders – such as CAF – in an effort to contribute to the debate on development.
Zerah said the French Development Agency (AFD) had a growing interest in strengthening its relations with Latin America, and expressed satisfaction with the excellent joint work with CAF, particularly in the areas of environment, infrastructure and social development.
The First CAF-SciencesPo Conference presented distinguished speakers from Latin America and Europe, including UNASUR secretary general María Emma Mejía; advisor to the president of Brazil, Marco Aurelio Garcia; director of Brazilian Development Bank (BNDES), Luiz Melin; along with former ministers and eminent academics from Germany, Argentina, Colombia, Ecuador, Spain, United States, France, Peru and Venezuela.