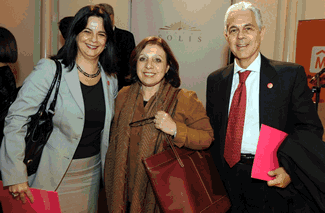 CAF presents plan to redevelop Montevideo's Central Market
October 28, 2011
The Central Market redevelopment involves renovation of the building and commercial development of the premises to be built, along with extension of underground parking and recreational, cultural and artistic activities.
The project, which would move the CAF office to the new building, was presented as part of the city's "Arts Barrio" initiative, creating a pole of attraction for the people of Montevideo and tourists.
(Montevideo, October 28, 2011).- CAF - Latin American development bank - presented its project to redevelop the city's Central Market, a venture that will see the institution's offices in Montevideo move into the new property. The proposal is part of the municipal initiative launched in Teatro Solis to create the "Arts Barrio," an area around Calle Soriano from Sala Verdi to Teatro Solís, which will be a pole of attraction for the people of Montevideo and tourists visiting the capital. The initiative includes the reopening of Hotel Cervantes with the recovery of its valuable literary history, the presence of the future MEC Science Museum in Dique Mauá, and places such as Café La Diaria, among others.
Gladis Genua, CAF director representative in Uruguay said "CAF is a Latin American institution for Latin Americans whose main objective is to support sustainable development and integration in the region." "With the proposed plan, we are contributing to the recovery of an emblematic area for the city, creating a space for recreation and culture for the enjoyment of all citizens," she added.
Montevideo Mayor Ana Olivera said "culture is never opposed to anything and in that respect we in the city government are launching a strategic line of action which is public-private cooperation, recognizing that the city is a collective construction which requires something from everyone." "There is a lot we can do here and we know just how enjoyable this city is. Montevideo has projects, a great future and we have many things to announce and enjoy," Olivera said.
The Central Market redevelopment, according to the CAF project, will require refurbishment of the building and development of the premises to be built, preferably for commercial and cultural purposes. The plans also include recovery of surrounding spaces, extension of underground parking, and organization of recreational, cultural and artistic activities. An architectural design contest will be held to choose a winning project for submission to the Montevideo City Government followed by award of the land to CAF.