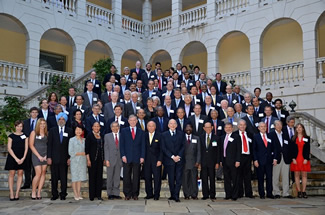 Emerging Market Forum 2011
(Airlie Center - Virginia, October 4, 2011).- To exchange ideas on the key issues in the economic, financial and social area facing emerging markets, the Emerging Markets Forum 2011 was held in Virginia with the participation of over 120 high-level world leaders from the public and private sectors.
The co-presidents of the Forum were Enrique García, president & CEO of CAF – Latin American development bank; Fidel Ramos, former president of the Republic of Philippines; Michel Camdessus, honorary governor of the Bank of France and former managing director of International Monetary Fund (IMF); and Haruhiko Kuroda, president of the Asian Development Bank.
The working sessions covered topics of reform of the international financial system, the state of the global economy and outlook for Asia through 2050, the impact of climate change on emerging markets, the Europe's role in the global economy, creation of world-class educational institutions, and the challenges of Mexico 2050.