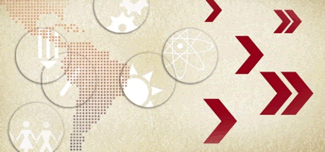 Finalists of Innovators of America Prize announced
October 03, 2011
The prize was launched this year with CAF support. Over 750 innovators were nominated from Argentina, Brazil, Colombia, Costa Rica, Ecuador, El Salvador, Guatemala, Mexico, Panama, Peru, Dominican Republic and Venezuela, among others.
(Santo Domingo, Dominican Republic, October 3 2011.-) The panel of 18 international members of the Innovators of America Prize has selected the following finalists for the prize categories based on their creative development, personal commitment, ethical values and respect for the environment.
EDUCATION:
Bibliomulas (Book mules) - Hermann Pargas Meza - Venezuela
Virtual Tools for Education and Social Inclusion - Jorge Enrique Leal Rodríguez - Colombia
Electronic Pencil - Alfredo Blanco - Venezuela
SCIENCE AND TECHNOLOGY:
Computerized Assistance in Oncological Osteoarticular Surgery and Bone Transplants - Luis A. Aponte-Tinao - Argentina
Development of Oral Medicines with Innovative Technology for Treatment of Diabetes Mellitus Type 2 (Dm2) - Juan López De Silanes Pérez - Mexico
Surveillance System for Cancer Prevention in Women (SIVIPCAN) - Orlando Benito Martínez Granera - Nicaragua
DESIGN:
Coconut Lounge: Modern furniture for exteriors - Darío Polaco - Argentina
ALIEN: Road Indicator - Angélica Díaz - Colombia
Layout of Front Side Brake Lights for Vehicles - Rodolfo Cúneo - Argentina
SUSTAINABILITY AND ECOLOGY:
Integrated use of Coffee Processing Sub-products - Andrés Ramírez Vélez - Colombia
Biotectonics – Building Life: Local Systems of Infrastructure Vegetalization as Synergy Solution to Urban Environmental Problems - Ricardo Andres Ibanez Gutierrez - Colombia
Phytoprotector biofactory - Demetrio Javier Díaz M - Panama
BUSINESS AND INDUSTRY:
BIALTEC – Applied Biotechnology in Food Supplements - Javier Mauricio Agudelo Rendón - Colombia
Vegetarian Fast Food - Gabriel Jaime Ramirez Zapata - Colombia
Maximum Use of Thermal Sources to Capture International Health Tourism - Teodoro Duran Andrade – Ecuador
COMMUNITY DEVELOPMENT
: Void. The panel members of the Community Development Category – Drs. Vibeke Tuxen, Fernando Jordan and José Oduber Rivera – considered that "... none of the entries by innovators in the COMMUNITY DEVELOPMENT CATEGORY have reached the minimum score to classify as winners of the competition. As a result, using our responsibilities as jury members, we recommend declaring the award in this category void. According to the criteria in the scoring platform of the
"INNOVATORS OF AMERICA" Prize
, none of the projects entered reached the minimum parameters for content, depth, form, scope and presentation."
Clause "9. Jury Members" The Legal Conditions of the Prize establish that: "Decisions on the winners of the Prize will be adopted by the Jury appointed by Innovamerica and its decisions are not appealable."
The investigation team, formed by a multidisciplinary group of Latin American experts submitted to the Jury, after the demanding work of evaluation and validation of the innovations received through our web page, the final entries which met all the requirements of the Prize.
The Innovators of America Prize was launched this year with support of CAF- Latin American development bank. Over 750 innovation entries were received from Colombia (219), Venezuela (203), Argentina (85), Mexico (59), Peru (44), Dominican Republic (43), Guatemala (37), Ecuador (15), Brazil (13), Costa Rica (13), and El Salvador (11) among others.
Public Voting
From October 7 to November 7 the public may vote for their favorite finalists through the web page www.innovadoresdeamerica.org.
The public voting will represent 25% of the total weighting of the jury for selection of the winners.
Because Latin America is brimming with future, ideas and people of value!
To obtain more details of the Innovators of America prize, go to www.innovadoresdeamerica.org