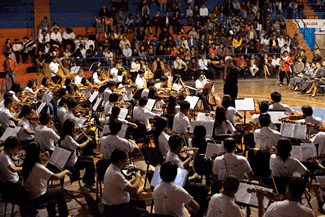 Magnificent concert by children and youth orchestras in Tarija
October 25, 2011
The Third National Workshop of Children and Youth Orchestras of the CAF Social Action for Music ended with an emotional symphony concert with pieces from Bolivia's indigenous cultural heritage.
Over 80 children and young musicians from Cochabamba, Sucre, Potosí, Tarija, Santa Cruz, La Paz and El Alto took part in the 10-day event.
The workshop was given by teachers from Venezuela's Simon Bolivar Music Foundation.
Tarija, October 25, 2011.- A magnificent and moving concert in the University Coliseum of Juan Misael Saracho Autonomous University in the city of Tarija, ended the Third Workshop of Children and Youth Orchestras promoted by CAF - Latin American development bank – as part of its Social Action for Music Program with the support of Tarjia departmental government and Banco Sol.
From Cochabamba, Sucre, Potosi, Tarija, Santa Cruz, La Paz and El Alto, 85 children and young musicians, who took part in the workshop in the last 10 days, masterfully performed seven classic works on stringed instruments, under the direction of teachers from Venezuela's Simon Bolivar Music Foundation (FUNDAMUSICAL).
Emilio Uquillas, CAF director representative in Bolivia, thanked the Government of Tarija and Banco Sol for their support and the teachers for their work with the young people. He said the ongoing effort of training through workshops discovers and builds the capacity of very talented, extraordinary musicians from all regions of the country.
This concert, he added, "is just a sample of the great work which has been done in the workshop and is one more successes to over a decade of implementation of the Program in the Institution's partner countries, with the aim of human development and social inclusion for the benefit of children and youth at risk."
CAF's objective is to promote and enhance young talent with music teaching of excellence and, through it, achieve integrated human development. "We believe that people are the most important factor for a country's growth and development and the great talent of these young people will make Latin America into an increasingly prosperous region," Uquillas said.
Eugenia Tejerina, secretary for Protection of the Natural and Cultural Heritage of Tarija department, representing Governor Lino Condori, thanked CAF and the Venezuelan teachers for making possible the holding of the workshop in Tarija and the performance of musical works of such high quality.
Jesús Sira, violin teacher with FUNDAMUSICAL, said he was very happy with the extraordinary work done by the children and young people who attended the workshop."There have been 10 days of intense work, almost 10 hours a day, to build a difficult and complicated repertoire but with extraordinary musicians," he said. He praised the performance of the work "Roque Santo peregrino," which for the first time was played by a symphony orchestra and a group of traditional instruments from Tarija.
Since its start in 2000 the CAF Social Action for Music program has trained 45,000 children and young people from vulnerable sectors in Latin America, as well as 700 teachers who are multiplying the model in their communities and giving 160 instrumental, choral and lutherie (instrument building and repair) workshops in 36 Latin American centers. Today, 45 institutions are replicating the model in countries around the region.