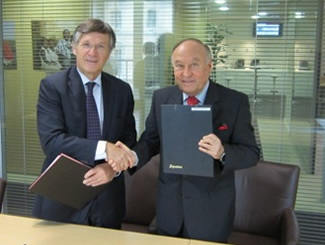 Participation in French financial institution favors private investment in Latin America
October 13, 2011
CAF acquires equity interest in Proparco in an effort to broaden the range of action of the two institutions in the region.
Proparco, as the financial arm of the French Development Agency (AFD), promotes private investment in over 90 countries.
(Paris, October 13, 2011) .- CAF - Latin American development bank - acquired a 2.5% equity interest in Proparco (Promotion et Participation pour la Coopération Économique), a financial institution whose main shareholder is the French Agency Development (AFD).
The share acquisition was subscribed in Paris by CAF President & CEO Enrique García, and Proparco CEO Etienne Viard.
During the signing García said "this transaction opens new and important opportunities for strengthening business in the private sector in the region, which will lead to increased flows of finance and investment and attract more capital into key sectors of the economy."
As the financial arm of the French Development Agency (AFD), Proparco promotes economic and social progress in over 90 countries. "In the past two years, 20% of approvals have related to operations in Latin America, reflecting the region's dynamism and the great opportunities which the development of our activity in Latin America has opened for Proparco," Viard said.
Under the agreement, the two institutions will co-finance projects; collaborate in key areas for development such as regional integration, health and education, food security, climate change and microfinance; implement innovative financial mechanisms and offer advisory services, and coordinate cooperation initiatives with international financial institutions.