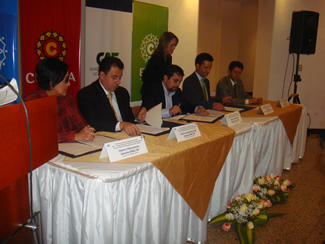 Promoting good corporate governance practices in Ecuador
October 07, 2011
CAF and the city of Cuenca signed agreements with two municipal public companies interested in strengthening their culture of efficiency, equity and transparency
(Cuenca, October 7, 2011).- As part of the Program for "Strengthening corporate governance practices in State Public Utility Companies," two technical cooperation agreements were signed in Cuenca. The first with Empresa Pública Municipal de Desarrollo Económico de Cuenca (EDEC EP) and the second with Empresa Municipal de Aseo de Cuenca (EMAC EP).
CAF - Latin American development bank - in its continuing efforts to promote sustainable development and regional integration among its shareholders, has been implementing this Program since 2008.
The agreements were signed in the presence of Mayor Paúl Granda, as witness of honor; Jairo Tiusabá, CAF Public Policy and Competitiveness executive; José Luis Espinoza Abad, general manager of EDEC EP; and Valeria Villavicencio Vega, manager of EMAC EP.
After the signing Jairo Tiusabá said the multilateral organization was interested in "offering companies a range of tools to guarantee an effective legal and regulatory framework, offer equitable treatment to their shareholders, and integrate elements of efficiency, equity and transparency in order to strengthen their image and improve their business practices."
The two companies will be the first in the public sector in Cuenca to implement Good Corporate Governance (CG) practices which it is hoped will set an example and benchmark for replication around the country.
CAF - aware of the importance of improving corporate competitiveness - has become a regional leader in the field, and has been working since 2004 on adoption of good CG practices in both the public and private corporate sector.
The project is part of the program the institution is currently implementing with support from the Italian Cooperation Fund for diagnostic studies and implementation of best CG practices in 10 representative public companies in Bolivia, Ecuador and Peru.