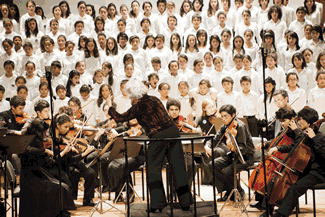 Second CAF International Choral Workshop ends in style
October 07, 2011
The meeting brought together teachers from all corners of Colombia, along with Bolivia, Ecuador, Panama, Peru and Uruguay.
One of the activities was a concert in honor of Venezuelan choral teacher María Guinand.
(Bogotá, October 7, 2011).- About 50 teachers from all parts of Latin America took part in the three days of the second International Choral Training Workshop, part of the Social Action Program for Music (PASM) of CAF - Latin American development bank. The event was held in Bogotá with the support of the Coral and Orchestral Corporation of Colombia.
"This experience is an excellent way to promote cultural integration and support social inclusion of children and young people who find in choral and orchestral practice an effective way to move their lives forward," Victor Traverso, CAF director representative in Colombia said.
The training workshop - which included vocal technique, and choral and symphonic repertories - was given by maestros Alberto Grau, Margot Parés Rey, and María Guinand who was honored with a thrilling concert which celebrated the artistic contribution of the Venezuelan choral teacher in Latin America and the world.
Guinand is the artistic director of the Schola Cantorum Foundation of Caracas and the CAF Latin Choral Voices Coro Project. She has been vice president for Latin America of the International Federation for Choral Music (IFCM), member of the UNESCO International Council for Music and held different positions in the Montalbán Center for Children's and Youth Orchestras and Choirs (Fundamusical), among others.
"María Guinand's work has helped thousands of people overcome their barriers, move forward, and find new spaces for integration through music, all important elements for the development of the region," Traverso said.
Music: window of hope
In the words of Venezuelan maestro Alberto Grau, the CAF Social Action Program for Music has "shown that these activities open up a window that gives participants in the workshops and their families more hope of believing that through art young people can become more prepared and more self-confident citizens, breaking the taboo that children born in slums have no right to a better future."
The concert in honor of Guinand was held as the opening of the Second International Choral Training Workshop and closure of the Latin Choral Voices Workshop, both activities of the CAF Social Action Program for Music, held as part of the 30th anniversary of the Bogotá International Choral Festival.
In the next few months, the choral directors will use the training activities to replicate the lessons learned in their respective countries and art schools, as is normal practice for the participants of the choral training programs that CAF supports around the region.