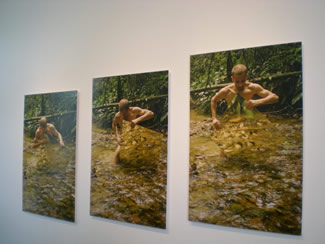 SIART 2011 International Competition Exhibition at CAF Artespacio
October 13, 2011
Works by artists Ao Leo of Brazil and Jesús Herrera of Spain are among those selected for the SIART 2011 International Competition.
Their works will be on show for 10 days at Artespacio, the CAF Art Gallery.
La Paz, October 13, 2011.- Artespacio, the art gallery in La Paz of CAF - Latin American development bank, is again one of the venues showing the works selected for the SIART 2011 International Competition. From Thursday, the La Paz public will be able to enjoy the works of artists Ao Leo of Brazil and Jesús Herrera of Spain in the CAF gallery.
The entries of the two foreign artists were selected from over 400 submitted to compete in the seventh SIART 2011.The curators chose 34 works which will be exhibited in various fixed and mobile galleries in La Paz from October 12 to November 12.
Patricia Alborta, CAF Country Economist, said - on behalf of the CAF director representative in Bolivia, Emilio Uquillas - that the International Art Biennial was a space for promotion, diffusion, reflection and integration through contemporary art, which the financial institution supports and values.
She said it was an honor for CAF to be one of the galleries chosen to exhibit works from the international competition.
According to Biennial coordinator Magui Cossio, the general curator, Justo Pastor Mellano (Chile), and associate curator, José Bedoya (Bolivia), selected the best works on the basis of the techniques which the artists used and explored to create their works.
Cossio said that the works on show in CAF Artespacio share a common element, which is interaction with nature. Leo merges into his work, creating a self-portrait in the landscapes, while Herrera draws nature with different forms and shapes.
The exhibition opens on Thursday October 13 in CAF Artespacio on Avenida Arce No 2915, San Jorge. Admission free.