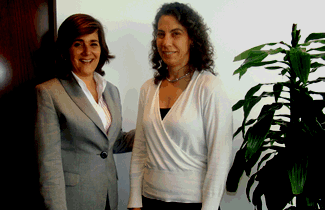 Support for MIDIS in the fight against poverty in Peru
October 31, 2011
CAF director representative Eleonora Silva met with the minister of Social Development and Inclusion (MIDIS), Carolina Trivelli.
Also at the meeting were the vice ministers of Social Benefits, Jorge Arrunátegui, and Juan Pablo Silva, Social Policy and Evaluation.
(Lima, October 31, 2011).- CAF – Latin American development bank – expressed its support for the Ministry of Social Development and Inclusion (MIDIS) and its strategy to reduce poverty and promote inclusive and decentralized dialogue in Peru.
The statement was made during the meeting of CAF director representative Eleonora Silva with MIDIS Minister Carolina Trivelli who visited the office of the multilateral institution to give details of the activities her ministry will develop to implement strategies to reduce poverty in the country.
Trivelli - accompanied by the vice ministers of Social Benefits, Jorge Arrunátegui, and Social Policy and Evaluation, Juan Pablo Silva - said her ministry had coordinated a series of meetings with regional and local governments, and civil society and international organizations, since all these actors are crucial for achieving the objectives set for the sector.
"We have to draw on the exchange of successful experiences in neighboring countries in the implementation of social programs, especially in the field of early childhood where there have been very successful results. These good practices will be used to design the Ministry's programs," the minister said.
Recalling that CAF is a multilateral financial institution committed to the sustainable development of countries in the region, Silva said the institution's participation in financing the social sector had been strengthened and reinforced in recent years.
Emphasizing that economic progress has a real impact on reducing poverty and inequality in Peru, the CAF executive said the task of social development and inclusion is not only the responsibility of the state, but also of all other actors, including multilateral organizations.
"For CAF, social inclusion involves the dynamics that link capacity building to access to opportunities, access to welfare, networks of relationships, but above all the full exercise of citizenship. We conceive social inclusion as the process that ensures that all members of society participate equally in all the areas of that society: economic, political, legal, cultural, etc.," Silva said.
The CAF representative added that it was important to address all issues related to provision of assistance, but also to develop skills. "From individual actions, a set of measures need to be deployed to accompany a more integrated action. Social management has to focus not only on equal opportunities but also on equal skills. To reach this step, we have to guarantee high quality nutrition, education and health at all levels which means making infrastructure available to all."