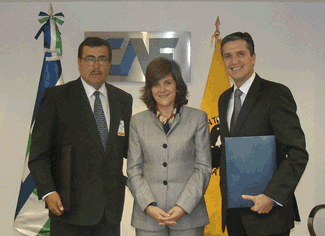 United with Cantolao for Peruvian children
October 20, 2011
The Latin American financial institution will support, with non-reimbursable funds, the efforts of the Cantolao Sports Academy to improve the quality of life of children at risk.
(Lima, October 20, 2011) .- An agreement to improve the quality of life of children at risk using sport as a tool for prevention and social rescue was signed today by CAF - Latin American development bank - and Cantolao Sports Academy.
The document was signed by CAF vice president of Social and Environmental Development, José Carrera, and the president of Cantolao Academy, Dante Mandriotti, in the presence of CAF director representative in Peru, Eleonora Silva, and the Regional Director for Latin America of Right To Play, Margarita Seminario.
José Carrera said the joint effort would result in improved living conditions and social integration of the children. Thanks to the agreement, Cantolao Academy will work on issues related to education and development of children aged 6 to 12, positive management of the group for fair play, notions of basic health, and teamwork.
He added that CAF was promoting strategies of this type in all the countries where it operates, in an effort to catapult creation of opportunities for new generations and reduce the factors of inequity which still persist in the region.
"We have seen major advances in behavior, school performance and socialization of children and young people from disadvantaged groups in Latin America which have access to the Social Action Programs developed by CAF," Carrera said.
The CAF Social Action Program for Sport, which is currently operating in several countries in Latin America through Right To Play and other local partners, channels funds for sports programs which promote formation of values, education and life skills, social integration, gender equality, health and disease prevention, as well as inclusion of people with special needs.
Cantolao President Dante Mandriotti said the objectives of the agreement signed with CAF are consistent with the work the sports academy has been doing to make a real contribution to Peruvian society.
"Since its founding our institution has been educating through sport. We provide specialized training for children in football, which gives them skills, abilities, proficiency and values for life, building social and human capital," he said.
The regional director for Latin America of Right To Play International said it was a real honor for his organization to be part of an innovative approach which uses the power of play and sport as a tool for developing life skills which foster social change.
"This initiative is helping to create social inclusion and opportunities for youth in line with the basic principles of Right To Play: inclusion and sustainability," he said.
Cantolao Sports Academy, founded in 1981, is one of Peru's most important sports training centers. Its mission is to educate through sport, providing specialized education in football for children with the support of qualified coaches and parents committed to the integrated education of their children for the benefit of society.