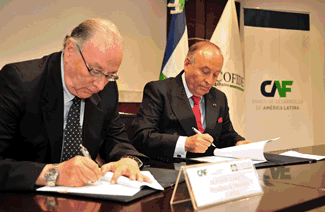 Agreement with COFIDE to strengthen action in Peru
November 24, 2011
On an official visit to Peru, CAF President Enrique García signed an institutional cooperation agreement with COFIDE President Alfonso Zarate.
(Lima, November 24, 2011).- With a view to strengthening institutional relations, CAF - Latin American development bank - and Corporación Financiera de Desarrollo (COFIDE) signed an agreement to set up support, technical and financial cooperation mechanisms to strengthen their actions in promoting and financing investment in Peru.
During his official visit to Peru, CAF President & CEO Enrique García signed the document with COFIDE President Alfonso Zarate in the representative office of the multilateral financial institution.
García said that thanks to the agreement, CAF and COFIDE would maintain close cooperation on matters of mutual interest, developing work plans and organizing activities for joint projects.
Precisely with a view to facilitating joint participation in potential financing of productive investment and infrastructure projects of mutual interest, the two institutions agreed to define sectors, projects and operations of common interest, and set up credit arrangements through which both parties could participate.
Under the agreement, the entities will jointly structure a financing model for infrastructure investment projects at regional and/or local level, involving the private sector and government bodies.
Support for microfinance
CAF and COFIDE also agreed to evaluate support mechanisms for developing microfinance, including the possibility of providing funds and technical cooperation to microfinance institutions. They will also jointly evaluate the feasibility of creating a range of funds to support access to credit by micro and small enterprises.
The two development institutions will facilitate promotion and financing of projects relating to renewable energy, change of energy matrix and environmental improvement. In addition, they will cooperate in non-financial areas such as environment, competitiveness, corporate governance, etc.
The CAF president said "I am very pleased with the signing of this agreement. By strengthening relations between our two institutions we are joining forces to increase our impact on the development of the country; working with COFIDE we will have a greater impact on the private sector, especially small- and medium-sized enterprises."