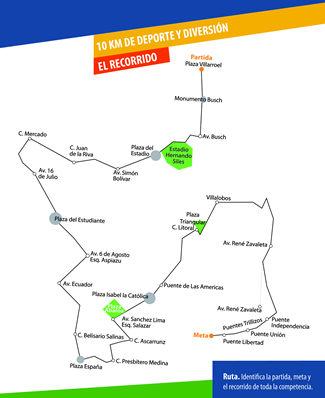 Close to 8,000 enrolled in the La Paz 3600 race
November 03, 2011
A few hours before entries close, the people of La Paz are showing their enthusiasm about taking part in the 10 kilometer race to be held on Sunday 6.
(La Paz, November 3, 2011).- The third 3600 La Paz race, organized by CAF - Latin American development bank - and the La Paz City Government (GAMLP), has created great excitement among the people of La Paz. One day before entries close, over 7,800 runners had registered. This number is expected to rise by the entry deadline at the end of the day.
The competition is open to all citizens. Elite athletes, amateurs, women and men, young people, senior runners and athletes with special capacities can participate in the five categories: "A" (up to 35 years), "B" (36 to 45), "C" (over 46), "D" (secondary students), and "E" (people with special abilities).
Starting 6:30 am, the first 5,000 runners to arrive at the starting point in Plaza Villarroel will receive T-shirts. Competitors are urged to arrive in good time because the race will start on time at 7:50 am for athletes with special capacities and 8:00 am for the other four categories.
The 3600 La Paz race aims to be recognized as the largest and best organized sports events in the country.
The route
The race starts from Plaza Villarroel (Miraflores) and continues along Av. Busch, Plaza del Estadio Hernando Siles, Av. Simon Bolivar, Calle Juan de la Riva, Calle Mercado, Calle Ayacucho, Av. 16 de Julio (El Prado), Plaza del Estudiante, Av. 6 de Agosto, Calle Aspiazu, Av. Ecuador, Plaza España, Calle Presbítero Medina, Calle Ascarrunz, Av. Sánchez Lima, Plaza Abaroa, Calle Pedro Salazar, Plaza Isabel La Católica, Puente de Las Américas, Plaza Triangular, Calle Litoral, Calle Villalobos, Av. René Zabaleta, and Puentes Trillizos (Independencia, Unión y Libertad), where the race ends.