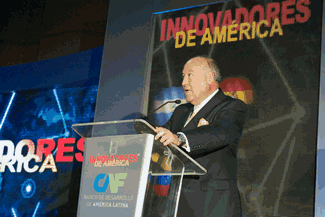 Innovators of America Prize presented to first winners
Santo Domingo, Dominican Republic, November 24, 2011.- The Innovators of America Prize was awarded for the first time at an event held today in the Auditorium of the Central Bank of the Dominican Republic in Santo Domingo, in the presence of CAF President & CEO Enrique García among other distinguished national and international, personalities.
The Innovators of America Prize was launched with support of CAF - Latin American development bank. The prize will be presented every two years in a different Latin American country. The first event received over 750 entries from 19 countries in the region.
The winners, who will be recognized as the new Innovators of America 2011, received US$40,000 each. In the five categories of this first presentation, the winners were:
EDUCATION: Jorge Enrique Leal Rodríguez - Virtual tools for education and social inclusion - Colombia.
SCIENCE AND TECHNOLOGY: Luis A. Aponte-Tinao - Computerized assistance in oncological osteoarticular surgery and bone transplants - Argentina.
DESIGN: Dario Polaco - Coconut Lounge: modern outdoor furniture - Argentina.
SUSTAINABILITY AND ECOLOGY: Andrés Ramírez Vélez - Integrated use of coffee processing sub-products - Colombia.
BUSINESS AND INDUSTRY: Javier Mauricio Agudelo Rendón - BIALTEC - Applied biotechnology in food supplements - Colombia.
The presentation featured speeches by representatives of Innovamérica, which organizes the Innovators of America Prize. Felipe Pagés, director of Innovamérica, spoke about the impact of the communication platform that was developed to publicize the Prize and gave an honorable mention to Gustavo Sorzano, creator of Innovators of America Prize.
Pagés added "Innovators of America is a continental movement to promote innovation, ingenuity and creativity as a development platform in a rapidly changing and technologically challenging world."
Enrique García, CAF president & CEO, the main sponsor of the prize, stressed the importance of promoting innovation as a tool for moving Latin America from a comparative advantages model to one of competitive advantages with social inclusion.
Two important icons of innovation in Latin America - Dionisio Soldevila and Jorge Reynolds - received recognition for their legacy in research and science.
Patricia Janiot, CEO of Innovators of America, said "it is a great satisfaction to know that our region has started an innovation movement that teaches us to think differently, to believe in what we are capable of doing, and to motivate young people to meet the challenges of a competitive and interconnected global future."
The winners and special guests travelled to the Award Ceremony on COPA Airlines, the official airline of Innovators of America.
Innovator Tours. In April 2012 the winners will begin a series of tours to various countries in the region. The Innovators of America will present their success stories in study centers, business associations, government agencies and media organizations in an effort to inspire and spread new models of thinking and development for our Latin America.
Regional coverage. The members of the network of media partners covering the prizes were: Listín Diario, Dominican Republic; El Comercio, América TV and Canal N, Peru; Venevision and Union Radio, Venezuela; Emisoras Unidas, Guatemala; and TVN -2, Panama. Other media which joined in the coverage were CNN en Español, El Tiempo of Colombia and El Clarin of Argentina, El Universal and Televisa of Mexico, and numerous websites related to innovation, universities and digital media.
Local sponsors. Banco Popular, Estrella Foundation, CESPM and Fersen.
For more details of the Innovators of America Prize visit www.innovadoresdeamerica.org
Innovators of America - Latin America is overflowing with future, ideas and people of value!