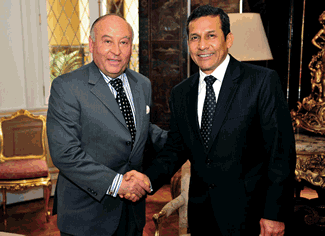 President Humala receives CAF president at Government Palace
November 19, 2011
During his visit to Peru, CAF President Garcia held important meetings with top government officials.
(Lima, November 19, 2011).- Peruvian President Ollanta Humala today received CAF President & CEO Enrique García at Government Palace. The CAF head is paying an official visit to the country before his participation in the Fifth China-Latin America Business Summit to start Monday November 21.
After confirming to President Humala the financial institution's commitment to supporting the priorities defined by the Peruvian government, García repeated his institution's willingness to continue backing Peru with average annual approvals of US$1.5 billion to finance both public and private sector projects.
"We established a very successful and positive dialogue with many areas of agreement. We talked with the president on issues related to the economic and social sectors to define more clearly the support that Peru will need from CAF in the years ahead," the CAF chief added.
The meeting - which was attended by Economy and Finance Minister Luis Miguel Castilla and CAF director representative in Peru Eleonora Silva - also covered the issue of regional integration, Peru's role in the process, and CAF's work as financial institution to the region supporting a range of initiatives aimed at greater integration which is at the core of its mission.
"We are very pleased with our relationship with the new government. We believe that progress is being made along the lines we share in an effort to build a country with sustained, efficient and - most importantly - inclusive economic growth, which means the benefits reach the majority of the people," García said.
The CAF president also held meetings with the president of the Council of Ministers, Salomón Lerner, and Foreign Minister Rafael Roncagliolo to discuss matters related to their portfolios.