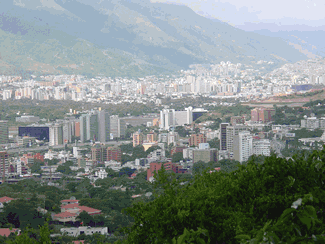 Road safety seminar for over 130 police held in Caracas
November 11, 2011
The Latin American financial institution organized ​​the event as part of the preparations for the CAF Caracas 2012 Marathon.
(Caracas, November 11, 2011) .- Over 130 policemen and women from the National Traffic Institute, the National Police, and the municipal police forces of Baruta, Caracas, Chacao, El Hatillo, Libertador, Miranda and Sucre, along with firemen, Civil Defense, and the People's Ministry of Interior and Justice participated in the Road Safety Seminar, organized by CAF – Latin American development bank – in its headquarters in Caracas.
The seminar is one of the activities of the Latin American financial institution in preparation for the CAF Caracas 2012 Marathon, by collaborating with the police and security forces actively involved in organizing the event.
"Our goal is to disseminate and promote best practices in the area and combat the public health scourge which unsafe roads has become," Luis Enrique Berrizbeitia, executive vice president of the institution, said.
The seminar aimed to build the knowledge of professionals and local officials on this issue and give them access to international experiences in related areas in a bid to understand the many aspects involved.
CAF's efforts on road safety are part of the actions through which the financial institution adheres to the UN General Assembly declaration of the "Decade of Action for Road Safety 2011-2020."
The UN declaration aims to encourage governments to propose realistic goals for reducing traffic deaths and injuries and make a commitment to take concrete actions to achieve them.
Berrizbeitia said "we have been working since our inception on infrastructure issues, focusing on the well-being of citizens and respect for the environment, so we are pleased to join this United Nations initiative because the issue of road safety is now one of the major public health problems in Latin America."
To respond to the deficiencies identified in obtaining solid, reliable and up-to-date information on the transport sector and mobility in the region, CAF has been promoting the Urban Mobility Observatory (OMU) for Latin America and the Caribbean which began its work by analyzing 15 metropolitan areas in nine countries in the region, which is sure to deepen knowledge of regional road safety problems.
The agenda of the seminar held in the CAF headquarters in Caracas was:
Road safety problems and cities - CAF Action Plan on Road Safety: Hilda Maria Gomez, international consultant on strategic management of the Traffic service and prevention, and Police Commissioner Teófilo Moreno of Panama.
Control and Road Safety: Colonel Pedro Antonio Molano Bonilla, operation and control advisor of the Road Prevention Fund Corporation of Colombia.
Road Safety and the Police Control in Venezuela: Commissioner Freddy Mora, head of Road Traffic Operations in Venezuela.
Spain's experience in reducing road accidents: the role of the police: Antoni Riu, head of Ibero-America relations department of the General Directorate of Traffic in Spain.
The View of Civil Society: Lilian Romero, ASOTRANS, founding member of the Ibero-American Federation of Associations of Victims Against Road Violence.