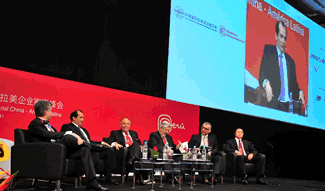 Synergy between Latin America and China has been an important growth factor in the region
November 21, 2011
On an official visit to Peru, CAF President García participated in the Fifth China-Latin America Business Summit.
(Lima, November 21, 2011).- The complementarity of the countries of Latin America with Asia, especially China, has been a major factor in regional growth in recent years. This was the message of CAF President & CEO Enrique Garcia who participated in the Fifth China-Latin America Business Summit which opened on Monday in Lima in the presence of Peruvian President Ollanta Humala.
During his presentation on Latin America: Competition, Potential and Opportunities, García said Latin America should focus on increasing productivity, diversifying its exports, becoming more competitive and increasing its investment in infrastructure, following the Chinese model which has fuelled the growth of that country's economy.
"The challenge facing the region over the next 10 years is to focus on a transition toward a productive transformation model, which means introducing more technology and value added into production; otherwise if we continue to depend on the export of raw materials, we will be left behind," he said.
The CAF CEO added that the correct strategy was to have a balance between what is intelligent international participation and competitive development of domestic and regional demand.
In other remarks, García said another important aspect was to invest in infrastructure, a sector where CAF plays a major role in financing in the region. Latin American countries currently invest 3% of their GDP when the target should be about 6%.
He said that in recent years, in its mission to attract more funds for the countries of the region, China has intensified relations in the financial area through agreements with the Export Import Bank of China and China Development Bank, but also with academia thanks to the agreement signed with the Institute of Latin American Studies of the China Academy of Social Sciences.
Finally, emphasizing the importance of the China-Latin America Business Summit, the CAF president said it was an event conducive to deepening ties between the two sides. The meeting would be an opportunity to discuss possible alternatives or solutions to the global crisis; in this instance neither side is part of the problem but could be part of the solution.