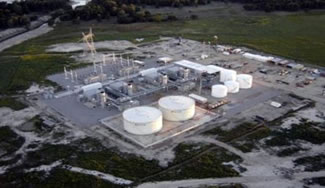 US$180 million to increase power generation in Uruguay
November 29, 2011
CAF approves funds for Punta del Tigre Combined Cycle Plant.
The project will boost the generating capacity of the Uruguayan electricity system to meet increased demand.
(Caracas, November 29, 2011).- To meet heavier demand for electricity in Uruguay, Administración Nacional de Usinas y Trasmisiones Eléctricas (UTE), the national power utility, is implementing the Punta del Tigre Combined-Cycle Power Plant Project, for which CAF - Latin American development bank - today approved a US$180 million loan backed by a guarantee from the Republic of Uruguay.
"This new plant will increase power generation capacity in Uruguay, which is critical at a time when – due to the country's economic growth - demand has grown exponentially," CAF President & CEO Enrique García said.
The CAF chief added that the project was considered strategic for Uruguay, "because it strengthens energy policy and the goal of self-sufficiency in local energy supply."
The project will add up to 520 megawatts to the energy system over the next five years. The Punta del Tigre combined-cycle generation plant is located in Colonia Wilson, San José department, where the Punta del Tigre thermal power plant is in operation, partially financed by CAF and implemented by UTE.
The new plant will exploit the use of combined-cycle technology. One advantage of this technology is its high efficiency, since higher yields are obtained than from a single-cycle plant by generating electricity without additional use of fossil fuels for the steam turbo cycle. This contributes to diversification of the energy matrix in an environmentally sustainable way.