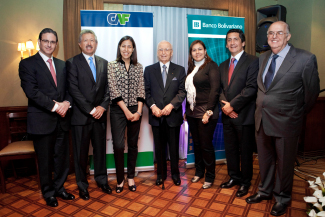 Banco Bolivariano and CAF present results of implementation of good corporate governance standards in the financial sector
December 20, 2011
The project helped establish principles and guidelines as models for the banking sector in Ecuador.
(Quito, December 20, 2011). .- CAF – Latin American development bank - and Banco Bolivariano presented the results of the pilot project to implement good corporate governance standards in the Ecuadorian financial sector.
The project included a diagnosis of the Corporate Governance practices of Banco Bolivariano and preparation of a Code of Good Governance for the institution and recommendations based on the highest international standards. Banco Bolivariano is currently gradually adopting the conclusions and contributions it considers most relevant.
For Hermann Krützfeldt, CAF director representative in Ecuador, said "implementation of Good Corporate Governance Practices in financial institutions creates value in the medium and long term by increasing the confidence of stakeholders, reinforces the reputation in the sector, and marks the difference in the banking sector by improving control and administrative systems."
This project is the first experience – supported by CAF – of implementation of good corporate governance practices in a bank in Ecuador. The results will be as an example and demonstration effect for the other institutions in the sector.
The corporate governance initiatives are promoted by CAF in partnership with governments, employers and academics involved with in area. They provide technical and non-reimbursable financial assistance for activities such as conceptual contributions, organization of forums and events, publication of awareness-promoting material, monitoring and measurement studies of good corporate governance practices, and development of pilot cases such as the one implemented with Banco Bolivariano.