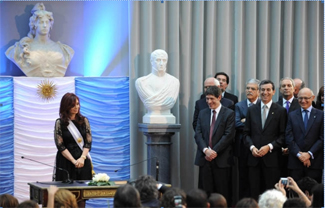 CAF President at inauguration of President Cristina Fernández de Kirchner
December 12, 2011
During his visit to Argentina CAF President García met with Chief of Staff Juan Manuel Abal Medina and signed an agreement with the University of Buenos Aires
(Caracas, December 12, 2011) .- Enrique García, president & CEO of CAF – Latin American development bank - attended the swearing in of President Cristina Fernández de Kirchner on Saturday December 10.
During the visit to this CAF shareholder country the CAF head met with Juan Manuel Abal Medina, Chief of Staff, Juan Tobías, rector of the University of El Salvador, and economist Bernardo Kliksberg, among other meetings.
García and the dean of the Economics Faculty at the University of Buenos Aires, Alberto Barbieri, signed an agreement to promote synergy between the two institutions for generation and sharing of knowledge on regional development.