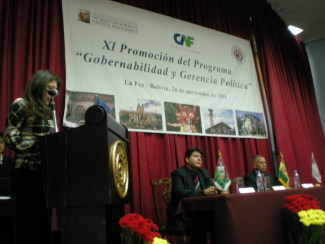 Closure of XI CAF Management and Political Government Program
December 29, 2011
A total of 1,971 Bolivian leaders have now benefited from academic training in political ​​ management since 2001.
(La Paz, December 29, 2011).- The closing ceremony of the XI Governance and Political Management Program was held in the auditorium of Del Valle Private University (Univalle) in La Paz. The program has been promoted by CAF - Latin American development bank - since 2001.
"The training gives new political leaders a long term view with new tools guided by an ethical practice of politics, which can lead to processes of self-sustainable, transparent, participative and effective transformation in political institutions and in solving the problems of ordinary citizens," Emilio Uquillas, CAF director representative in Bolivia, said.
He added that the contents of the Governance and Political Management diploma aimed at equipping authorities and their teams with a managerial view of policy, empowering their performance in order to strengthen public management and democratic institutions and respond to the most pressing needs of the community with viable actions and projects.
The Program was designed by CAF with methodology from the School of Political Management of George Washington University and developed in Bolivia by Univalle. This year the program graduated 232 leaders from national, departmental and local governments from eight of Bolivia's nine departments, with 72% from urban and 28% from rural areas.
Since its start the program has trained and formed 1,971 Bolivian leaders from 195 municipalities, including mayors, councilors, departmental counselors, deputies, presidents of vigilance committees, members of municipal technical teams and leaders of organizations working with municipalities, along with citizens committed to the development of their community and officers from the private sector interested in this academic activity.
The selection criteria are based on political, social, and cultural pluralism and are designed to adapt to all the educational levels of the participants.
The CAF Governance and Political Management Program is promoted by the Latin American financial institution in partnership with prestigious universities in Argentina, Bolivia, Colombia, Ecuador, Mexico, Panama, Peru, and Venezuela.