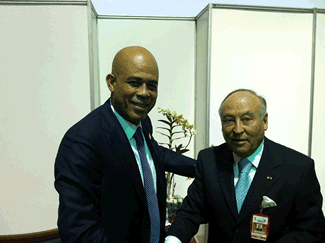 Michel Martelly met with Enrique García
(Caracas, December 6, 2011).- During the Summit of the Community of Latin American and Caribbean States (CELAC), the president of the Republic of Haiti, Michel Martelly, met with President & CEO Enrique García of CAF - Latin American development bank.
During the meeting the Government of Haiti expressed its interest in becoming a CAF shareholder, as well as stimulating strategic infrastructure projects for the reconstruction of the country.
The Haitian president was accompanied by Foreign Minister Laurent Lamothe and a high-level delegation.