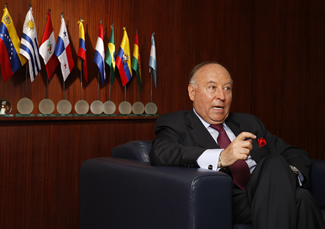 CAF begins 2012 reaffirming its presence on the most demanding capital markets
January 20, 2012
The development bank of Latin America started the year with a placement of EUR 82 million on the German Schuldschein note market.
CAF is the first Latin American institution to issue in this market.
(Special, January 20, 2012).- Reaffirming its presence on the most demanding capital markets CAF - Latin American development bank - began 2012 with a private placement on the German Schuldschein note market for EUR 82 million at a rate of 4.25% and a term of 15 years, becoming the first Latin American issuer in this market.
The announcement was made by the president & CEO of the financial institution, Enrique García. "With this issue CAF has again diversified its sources of financing with access to new investors in a market as demanding as the Schuldschein in Germany." The placement was led by Deutsche Bank.
García added that the multilateral development bank issued bonds totaling US$1.40 billion in 2011 and approximately US$14.00 billion in recent years. "These funds raised on international capital markets help CAF finance projects that favor the economic and social development of Latin American."
The issue demonstrates the bank's role as a catalyst in attracting funds into Latin America from industrialized countries to promote investment and trade opportunities in the region.
The institution's ratings are among the highest of Latin American debt issuers based on its excellent financial indicators, sound legal structure and the permanent commitment of its shareholders.