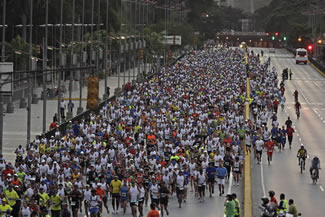 CAF Caracas Marathon 2012 qualifier for the 2012 London Olympics
(Caracas, January 17, 2012).- On February 26 the eyes of the world will be on Caracas when the CAF Caracas Marathon 2012 will be held. The world-class event – backed by the IAAF (International Association of Athletics Federations), AIMS (Association of International Marathons), and FVA (Venezuelan Athletics Federation) - has now been included in the qualifying events for the 2012 Olympics.
Luis Enrique Berrizbeitia, executive vice president of CAF, Latin American development bank, and president of the CAF Marathon Organizing Committee, announcing the news, said "the importance of the inclusion of the CAF-Caracas Marathon 2012 by the IAAF is that elite Venezuelan athletes, especially from low income sectors and from Latin America, now have an entrance to the top world athletics competitions." This recognition opens a new place where Latin American runners can make their marks and is evidence of CAF's commitment to inclusion.
FVA Secretary General Marcos Oviedo today received the official communication from the IAAF announcing the inclusion of the CAF Marathon in the list of qualifying competitions for the London Olympics.
CAF praised the support given to the event by the People's Power Ministries of Interior and Justice, Defense and Sport, along with the municipal authorities of Baruta, Caracas, Chacao and Sucre. Their commitment has been a significant contribution to the success of the CAF Marathon and has been instrumental in obtaining this important new international recognition from the IAAF. The route of the second event has been certified by the IAAF as a rapid circuit where elite athletes can achieve the minimum standard needed to take part in the top world sports event to be held in London in June and July this year.
For men the minimum mark required is 2:17:00 and for women the qualifying mark for the Olympic Games is 2:43:00
The CAF Caracas Marathon 2012 for Latin American integration is an initiative of CAF – Latin American development bank – aimed at stimulating sport as a means of integrated development and strengthening integration. The marathon – to be held on February 26, 2012 - will have two routes, 21K and 42K. For the organization, CAF is working in partnership with the Hipereventos company and has logistical support for security from the People's Power Ministry of Interior and Justice, Metropolitan Police, National Police, Civil Defense, Ground Transportation, fire departments, and the mayors and police of Baruta, Caracas, Chacao and Sucre. Nike and Gatorade are sponsors of the event. For more information visit http://maraton.caf.com