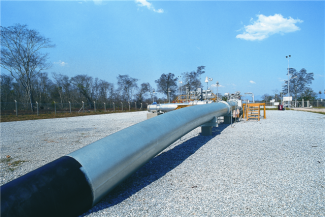 International call for feasibility study for Urupabol gas project
January 04, 2012
With CAF support Bolivia, Paraguay and Uruguay launched an international call for a feasibility study for the gas interconnection.
The study will provide decision-making elements for preparation of detail engineering for the project.
(Special, January 4, 2012) .- The Ministry of Hydrocarbons and Energy of Bolivia, the deputy minister of Mines and Energy of Paraguay, and the Ministry of Industry, Energy and Mining of Uruguay, supported by CAF - Latin American development bank - launched the call for a feasibility study for the gas interconnection between Bolivia, Paraguay and Uruguay (Urupabol).
The study, whose call is posted on the www.caf.com website, will determine the economic, technological, legal, regulatory, social and environmental feasibility of marketing the gas to supply the markets of Paraguay and Uruguay through the Paraguay-Paraná waterway.
The consulting firms must demonstrate experience in developing studies for the natural gas sector and river transport, and have a multidisciplinary team, covering the technological, social, economic, legal and regulatory, geopolitical and environmental aspects.
The Urupabol project is part of the CAF Sustainable Energy Program which promotes strategic lines of action on energy, including development of energy integration projects, improving quality and coverage of electrical services, coordination of regional networks, policymaking, renewable energy, energy efficiency, among others.
Interested companies should send their proposals by email to daps@caf.com by January 27, 2012. The study must be completed in six months.