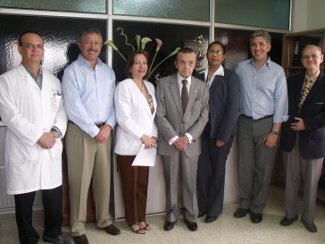 Joint effort with Guayasamín Foundation to convert the artist's home-studio into a museum
January 03, 2012
The integrated architectural redesign project will transform the artist's home
(Quito, January 3, 2012) .- CAF - Latin American development bank - and the Guayasamín Foundation signed a technical cooperation agreement for design studies on conversion of the home-studio of renowned Ecuadorian painter Oswaldo Guayasamin into a museum.
Since the artist's death, his residence-studio has been closed affecting its condition and depriving the public of visiting the site where the master worked. The integrated architectural redesign project will define the areas suitable for the museum, reallocate compatible uses in non-museum areas, and define the public tour routes, restricted areas and connection to other components of the cultural center. After completion, the public will be able to explore what was once the artist's home which has never been open to the public.
Krützfeldt Hermann, CAF director representative in Ecuador, said "the project involves strengthening art, culture and heritage, and reaffirms the stimulus that CAF contributes to Ecuadorian and Latin American culture.
This is not CAF's first contribution to the Guayasamín Foundation. In 2007, the institution made a significant grant toward the building of additional works for the "Chapel of Man" Cultural Complex where the region's artistic and cultural activities take place.
This new effort reaffirms CAF's commitment to the sustainable development of its member countries by disseminating Latin American culture, promoting its varied expressions and recovering the significance and legacy of the artists