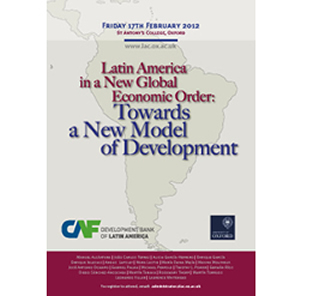 Latin America in a New World Economic Order: Toward a New Model of Development
January 19, 2012
This is the theme of the first CAF-Oxford University conference to be held on February 17 in the center of learning.
The activity is part of the joint program agreed by the two institutions to promote generation of knowledge on development of the Latin American region.
(Caracas, January 19, 2012).- The First CAF-Oxford University conference will be held on February 17, 2012 in the academic institution with the theme "Latin America in a New World Economic Order: Toward a New Model of Development."
The event will be the meeting point for recognized experts, academics, and executives from the public and private sectors, prominent business leaders and members of the global financial community, as well as political analysts and journalists.
The inaugural presentation on development challenges for Latin America will be given by CAF President & CEO Enrique García.
Enrique Iglesias, Martín Torrijos, Leonardo Villar, José Antonio Ocampo, Manuel Alcántara, João Carlos Ferraz and Nora Lustig will be among the experts and academics who participate in the event.
García said his institution was interested in generating knowledge on Latin America with the objective of "promoting an integrated development agenda, which strongly supports the design and implementation of public policies and the building of regional consensus, which is why we have entered into this strategic partnership with this prestigious academic institution."
"The agreement is evidence of CAF's catalytic role and interest in building bridges between Europe and Latin America, promoting investment opportunities in the region," García said.
The organization of the first CAF-Oxford University Conference is part of the cooperation agreement signed by the two institutions which covers organization of conferences; the CAF-Oxford scholarship program; research projects; holding the Seminar "Challenges of Social Policy in Latin America," and other activities of mutual interest.
For more information on the first CAF-Oxford University Conference "Latin America in a New World Economic Order: Toward a New Model of Development" see: http://www.lac.ox.ac.uk/events