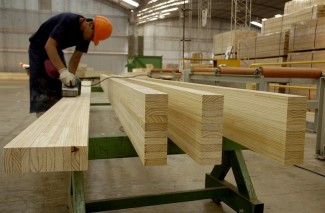 Promoting business development in the city of Cuenca and the Azuay Region.
January 30, 2012
The project will expand local productive capacities, improve the business climate and strengthen the institutional support framework for key productive sectors.
(Quito, January 30, 2012).- CAF - Latin American development bank - and the Cuencana Agency for Development and Regional Integration (ACUDIR) signed a technical cooperation agreement to assist the "Local Productive Clusters" project which promotes business development in the city.
The project aims to create dynamic competitive advantages by coordinating the work of the national government and local public and private actors in an effort to develop the potential of key productive sectors in the region. The city of Cuenca was selected for this initiative because of the strength of its institutions and decisive support from the members of the value chain of two important sectors - white goods and wood furniture. Both sectors are important sources of employment in the Azuay region, offer significant export potential, and group a large number of developing businesses, creating the conditions for strengthening productive capacity.
For Krützfeldt Hermann, CAF director representative in Ecuador: "The project will promote business development in the city of Cuenca and Azuay by boosting local productive capacity, improving the business climate, and developing public policies to support key productive sectors in the region."
This initiative, which is the first phase of a much broader and specific intervention by CAF in the city of Cuenca, will identify needs and specific future actions needed to achieve competitive business development in the productive sectors selected in the medium term.
CAF's contribution and that of the national and local authorities involved will build local capacity and create a model of intervention which can serve as an example to other productive sectors in the region.