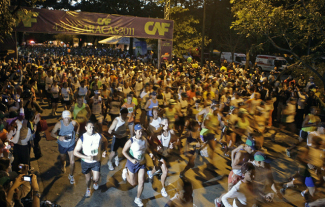 Record participation in CAF Caracas Marathon 2012
January 02, 2012
The 2012 marathon starts with over 4,900 runners registered for the sports event.
The registration process for the Half Marathon will close after reaching the maximum number for the category.
Caracas, January 2, 2012.- Next February 26 the second CAF Marathon will be held in Caracas. One of the most important aspects of the Marathon is the confidence that has been created among the participants, as shown by the record number of registrations which have outrun expectations with over 4,900 registered: 3,276 in the half marathon and 1,408 in the full marathon.
Given the massive participation, the organizing committee has decided to expand the number of places from the initial 5,000. T he limit for the 21K runners has been raised to 3,800 and for the 42K to 1,700, a total of 5,500.
Another important decision of the Committee is that from today no more changes of category will be accepted.
The CAF Caracas Marathon 2012 will be held on February 26 with two races 21K and 42K, including the South American Marathon Championship. The top athletes from our continent will be competing.
Runners who have not completed their registration and payment are invited to do so as soon as possible with the reminder that they can register through http://maraton.caf.com/inscripciones. T he registration fee from January 1 is Bs 300 or US$70 for those registering abroad.
CAF Caracas Marathon 2012 for Latin American integration is an initiative of CAF - Latin American development bank - to encourage sport as a means of integrated development and strengthening of regional integration.
For the organization, CAF is working with the Hipereventos company and has logistical support for security from the Ministry of People's Power for the Interior and Justice, Metropolitan Police, National Police, Civil Defense, Land Transport Department, fire departments, and the municipalities and police of Baruta, Caracas, Chacao and Sucre. The event is sponsored by
Nike and Gatorade.
For more information visit http://maraton.caf.com