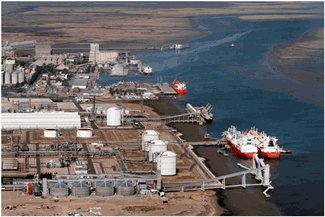 US$60 million for Port of Bahía Blanca Deep Dredging Project
January 24, 2012
Funds approved for this project which combines public-private efforts.
The aim is to increase the operational capacity and competitiveness of the port system.
(Buenos Aires, January 24, 2012).- The Port of Bahía Blanca Management Consortium, Argentine non-state public entity, is implementing the Deep Dredging of the port. CAF - Latin American development bank - announced approval of a long-term loan for US$60 million for the project.
"With this financing CAF is facilitating implementation of a project based on the combination of public-private efforts which will have a multiplier impact on one of the country's main economic sectors," Álvaro García, CAF director-representative in Argentina, said.
Bahía Blanca is the largest deepwater port in Argentina and its competitiveness is essential to maintaining that differential advantage. Currently shipping traffic is affected by the semidiurnal tidal regime, channel depth and geographic space. These adverse factors affect the intense logistical, trade and economic dynamic that characterize the port.
There is therefore an urgent need to dredge the channel to 45 feet along with additional works in the port basin to make the port independent of the tides and allow 24-hour operations. "The work will increase the operational capacity and competitiveness of the Bahía Blanca Port System," the CAF director representative in Argentina said.
With this approval the Latin American bank is supporting initiatives that directly affect the development of Argentina, he added.