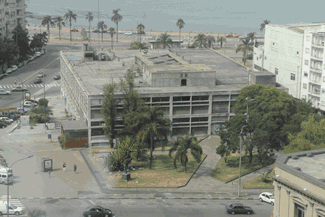 CAF announces competition for remodeling Montevideo's old Central Market building
February 16, 2012
The multilateral financial institution will move its offices in Montevideo to the building.
The promoters of the winning entry will be contracted to implement and manage the project.
(Montevideo, 16 February 2012).- CAF - Latin American development bank - announced the opening of an architectural competition for projects to redevelop the old central market building where the financial institution will locate its Montevideo offices. After selection, the winning project will be submitted to the Montevideo city government (Mayor's Office and Departmental Council) for concession of the property.
The project covers renovation or demolition of the old central market building, creation of spaces for cultural activity and an underground carpark. CAF's offices are currently located in Torre Ejecutivo.
"With construction of our own offices in Montevideo, we will strengthen our presence in the country while contributing to the city by giving both residents and visitors a place for leisure, recreation and an encounter with culture," CAF director representative in Uruguay Gladis Genua said.
Genua said the entries in the competition must include continuity in the Fun-Fun bar building "a historical and emblematic space for Montevideo," as well as underground parking, cinemas and other cultural venues.
Montevideo Mayor Ana Olivera said this was "a long awaited day." The proposal that the old central market building be turned over to CAF was made ​​two or three days after I was elected mayor." She added that "Montevideo has a plan" in which the remodeling of the block where the Central Market stands will become part of the city's initiative to create an "Arts Barrio," a defined area around Calle Soriano from Sala Verdi to the Solís Theater.
As set out in the terms and conditions of the competition, the jury will look at integration of the project into the urban context and application of architectural solutions that enhance sustainability, urban and environmental quality and economic and functional efficiency. The Uruguayan Society of Architects (SAU) will coordinate the competition and answer any questions from participants. The jury will consist of two architects on behalf of CAF, an architect appointed by the City of Montevideo, one appointed by the SAU, and the architect Robert Villamarzo as secretary of the jury.
The terms and conditions can be consulted on the SAU (www.sau.org.uy). Entries will be accepted until April 12. After that date the jury will start deliberating within 10 days, and then has 30 business days to make a decision.
The winning project will receive US$90,000 as advance fees for contracting the project and management of the work. The proposal selected for second place will receive US$40,000, third place US$20,000, and two mentions will receive a prize of US$10,000 each.