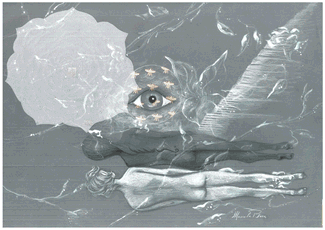 CAF Artespacio presents unpublished drawings by María La Placa
February 09, 2012
A series of unpublished drawings by María La Placa shows her view of life.
The exhibition will run until March 3 in the CAF cultural space in La Paz.
(La Paz, February 09, 2012).- "Diadorim" is the name of the exhibition of works of the Bolivian artist María La Placa which opens today in CAF Artespacio in La Paz, art gallery of the Latin American development bank.
"CAF promotes culture because it is one of the pillars for developing human capital in our partner countries. Throughout the year Artespacio presents Bolivian and Latin American artists whose works reflect the cultural richness of the country and the region," CAF director representative in Bolivia Emilio Uquillas said.
The show consists of 15 drawings captured on various layers of tracing paper which when superimposed create a counterpoint, achieving unusual combinations which the artist uses to represent the life of a person.
The overlapping layers of paper, which the artist uses as a technique to create her work, represent the stages of human life. "In reality, one stage overlaps the next leaving only the most superficial visible; the depth is hidden and imperceptible" La Placa reflects.
A characteristic of "Diadorim" is the presence of a bird repeated throughout the series and whose head is an enormous eye. "This eye represents the all-seeing conscience or spirit, and the body of the bird is the high instinct," the artist says.
La Plata studied drawing and fashion design in Volks University in Utrecht, Holland. For 20 years she painted and taught piano in Bolivia. The daughter of the celebrated painter Alfredo La Placa, she has lived in Barcelona, ​​Spain, since 2005.
From 1986 to 2008 the artist showed her works in over 20 individual and collective exhibitions in cities in Bolivia, Colombia, United States, Spain, Peru and Uruguay. In 1991 she was selected from several national artists to paint portraits of the presidents of Bolivia which now hang in the Government Palace.
Among her awards, the artist won first prize for painting in the competition organized by the Institute of Ibero-American Culture and represented Bolivia in the Second Modern Art Biennial in Merida, Venezuela in 1992.
In 2002 her work "Amazon, Mother Earth" was selected to represent Latin American art in the awards catalog of the Latin Business Convention in Los Angeles, California.
The "Diadorim" show is open to the public of La Paz until March 3 at CAF Artespacio on Avenida Arce 2915 (San Jorge).