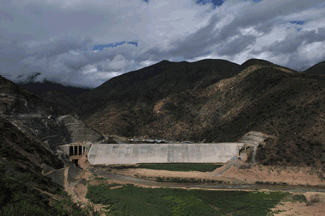 Partial US$50 million guarantee approved for Olmos Irrigation Project
February 09, 2012
The amount was approved by the multilateral organization in favor of H2Olmos to partially guarantee an issue on the Peruvian stock market. The funds will be used in the construction of the project.
(Lima, 9 February 2012).- CAF – Latin American development bank - approved a partial guarantee for US$50 million for the company H2Olmos SA to back a bond issue on the Peruvian stock market to finance approximately 50% of the construction of Olmos Irrigation Project, with a total cost of US$258 million.
The irrigation project is part of the Olmos Integrated Project whose main objective is to create a pole of agricultural and economic development, and improve the living conditions of the people of the Lambayeque region in the far northwest of Peru.
The Olmos Integrated Project has three stages: i) capture, transfer, and regulation of the water resources of the river Huancabamba to irrigable land; ii) hydroelectric exploitation of the transferred waterfalls, and iii) construction, operation and maintenance of the irrigation infrastructure for the Olmos Project. This stage will be executed by H2Olmos SA.
CAF director representative in Peru Eleonora Silva Pardo said the operation was in line with the multilateral bank's mission of promoting the sustainable development of the countries of the region, since the project will develop the Peruvian agricultural and agro-industrial sector, along with neighboring regions in the north of the country.
The approval demonstrates CAF support for development of the Peruvian capital market, considering that international evidence shows that countries with more financial depth and developed capital markets have better growth prospects, the executive added.
H2Olmos SA, an Odebrecht Group company, requested the partial guarantee to back a bond issue on the local market to be structured by Scotiabank Peru. The issue - for the equivalent of US$128 million – will raise funds for construction of the irrigation project granted in concession to H2Olmos SA
The rest of the funds will come from the international auction of land to be irrigated which has been granted by the Lambayeque Regional Government, together with the capital contributed to H2Olmos by Odebrecht. The first auction was held last December for a total of US$95 million. The second auction is expected to be successfully completed in March 2012.
"The operation reflects our commitment to support Peru's efforts to develop a market economy open to the world which makes growth with social inclusion possible. This major project will increase the flow of diversified agro-industrial exports and create over 50,000 direct and indirect jobs," Silva Pardo said.
The infrastructure to be built by H2Olmos SA will irrigate 38,000 hectares of wasteland (Valle Nuevo) to be brought into agricultural production, and another 5,500 hectares of Valle Viejo owned by small farmers and the Santo Domingo de Olmos campesino community, significantly expanding the potential of this area. The development of infrastructure by H2Olmos includes, apart from construction of its own irrigation system, building of roads and the electrical system.