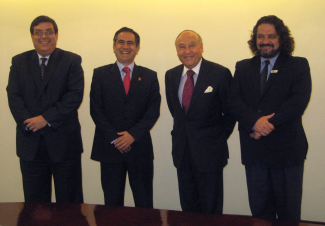 "Via de Integration de los Valles - Ruta Viva" Project to be executed with CAF support
February 09, 2012
CAF and the Quito City Government signed a loan agreement for US$ 51.5 million for construction of the first phase of the "Via de Integration de los Valles" Project.
(Quito, February 09, 2012).- CAF - Latin American development bank - and the Quito Metropolitan District signed a US$51.5 million loan agreement to partially finance the first phase of the "Via de Integration de los Valles," better known as "Ruta Viva."
The agreement was signed – in CAF Headquarters in Caracas, Venezuela – by CAF President & CEO Enrique García, and Quito Mayor Augusto Barrera. The two signatories spoke of the importance of the work, as a basic priority component of the Road Plan of the Quito Metropolitan District, since it will open an access route for the inhabitants of the valleys of Tumbaco and Cumbayá and users of the future Quito international airport.
García highlighted the excellent relations between CAF and Ecuador. "CAF gives priority to implementation of projects that have to do with human development, such as Ruta Viva, because they have a direct impact on improving the quality of people's lives."
"I want to thank CAF for its support – Mayor Barrera said - because this critical route has been a dream and aspiration for many years and will solve traffic problems for the people of Quito."
Construction of Ruta Viva will ease traffic congestion in the valleys of Tumbaco and Cumbayá, open a rapid access route between the valleys and the city of Quito, and provide services additional to infrastructure, related to mobility of passengers and cargo.
CAF is currently evaluating approval of a credit for US$99.99 million for construction of Phase II of the project, which would cover 68% of the total cost of the second stage.
The CAF loan will be used to finance the direct costs of the Project, including civil works, supervision, environmental and social costs. The executing agency will be Empresa Pública Metropolitana de Movilidad y Obras Públicas (EMMOP) through the Special Road Projects Unit of the Quito Municipality.