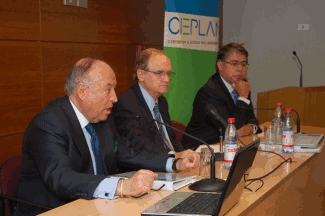 America in need of a strategy to deepen benefits of trade with Asia
March 30, 2012
Following the success of the International Conference on the Trade Relations of Latin America and Asia, organized by Cieplan and CAF, experts agree that a rethinking of relations is needed to absorb the changed situation, and identify and benefit from the opportunities.
(Santiago, March 30, 2012) There is no doubt that trade relations with Asia, especially China, have brought economic benefits; however, the international situation has changed and Latin America has not reacted with the necessary speed. The new opportunities that merit special attention spring from the change in the consumption patterns of attractive markets such as the Asian giant.
The paths to be followed and lessons learned about trade relations with the booming Asian economies fuelled the exchange of ideas and recommendations at the experts' meeting: "Analysis of Chilean-Asian Economic Relations. Lessons for Latin America." The event, held in Santiago on March 29 with some 20 specialists, was organized by Cieplan, Corporación de Estudios para Latinoamérica (CIEPLAN), a Chilean think tank, and CAF - Latin American development bank.
The presentations, comments and discussion by the experts brought out two major challenges facing Latin America in the framework of a globalized and competitive economy: transformation of production and international participation.
The presentations covered the need to diversify exports from the countries of the region, covering questions such as: What is meant by diversification? and Should diversification be the basket of products or the target markets?
Closing the event, Enrique Garcia, CAF president & CEO, after praising the high level of the discussion, said "international participation - successful in Chile's case - requires an effort by Latin America to develop policies that stimulate competitiveness, crucial in a global economy." "The region needs to develop a productive pattern of growth that is efficient, inclusive and in harmony with cultural diversity and the environment."
The host, Cieplan President Alejandro Foxley, spoke on intelligent international participation. It is very important to continue studying the question of what to do after signing the FTAs. The economist and former minister of state said the issue of "doing things together" was fundamental for the public and private sectors, and also for the multinational integration of companies.
The international conference was attended by experts from Latin America, China and Korea. The speakers included Wu Guoping, ILAS of China; Duol Kim, Korea Development Institute; Osvaldo Rosales, ECLAC; Ricardo Lagos Weber, Chilean senator; Joaquin Vial, Central Bank of Chile; Germán Ríos and Paul Sanguinetti, CAF; Patricio Meller, Cieplan; Andrés Rebolledo, IDB.