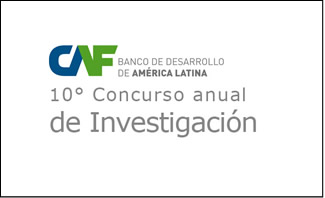 CAF announces winners of 10th Annual Research Competition
March 29, 2012
This year's theme was productivity and entrepreneurial talent in Latin America.
57 entries were received from 103 researchers in 15 countries.
(Caracas, March 29, 2012) - Four proposals were selected as winners of the 10th Annual CAF Research Competition which this year highlights productivity and entrepreneurial talent in Latin America.
The best works were also the most innovative with rigorous methodology and relevance to public policies and the CAF agenda. The winning entries will receive a US$15,000 prize to complete the research which will be presented at a seminar in June. The winners were:
Distortions, resource misallocation and productivity in Latin America, by N. Guner and G. Ventura (Universitat Autonoma de Barcelona and Arizona State University).
Impact of policies to promote entrepreneurship: the case of Buenos Aires Emprende by H. Ruffo, I. Butler, G. Galassi, G. Gonzalez, and M L Vera (IERAL of the Mediterranean Foundation).
Young Businesses, entrepreneurship, and the dynamics of output and employment in Colombia's manufacturing industry by M. Eslava and J. Haltiwanger (Los Andes University, University of Maryland, and NBER).
Financial frictions, occupational choice and economic inequality by L. Allub and A. Erosa (Madrid Institute for Advanced Studies, Carlos III University of Madrid).
The entries had to answer a series of questions on the asymmetries of productivity and size in Latin American companies compared with other regions of the world, the causes of the low level of business startups, their growth and survival, among other aspects.
The jury was formed by an interdisciplinary group of CAF executives, along with academics and experts on development and entrepreneurship in Latin America: Francisco Buera (UCLA); Chang-Tai Hsieh (University of Chicago, Booth School of Business); and Hugo Hopenhayn (UCLA).
CAF – Latin American development bank – organizes this competition every year based on its interest in the productive transformation of the region and its consequences in terms of sustained increases in productivity and gains in competitiveness. The development bank is linked to an extensive global network of think tanks and universities; its growing activity in publishing and knowledge dissemination position it as a regional think tank for the rest of the world on Latin American development issues.