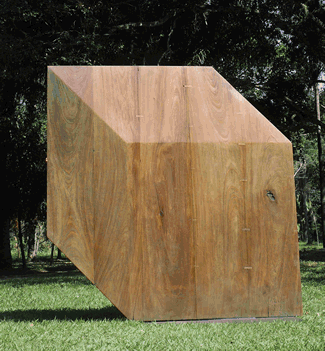 CAF Artespacio gives posthumous tribute to Marcelo Callaú
March 13, 2012
The exhibition consists of 20 sculptures by the renowned Bolivian sculptor in wood - mahogany, cedar, tarara and moradillo - which show a more mature creative facet of the artist in which geometric shapes take precedence over the human figure. · CAF promotes culture as one of the pillars of the development of human capital in its partner countries.
(La Paz, March 13, 2012). - From March 15 through April 6, Artespacio CAF - cultural space of the Latin American development bank in La Paz - presents the Marcelo Callaú exhibition as a posthumous tribute to one of Bolivia's most important sculptors.
The artist was born in Santa Cruz de la Sierra in 1946, studied painting at the Victor F. Serrano School of Fine Arts in that city and later at the La Cambre School of Architecture and Visual Arts in Brussels, Belgium, where he graduated in 1968 with the highest distinction in sculpture, bronze, drawing and photography. Callaú died in 2004.
The exhibition to be presented in Artespacio CAF consists of 20 sculptures, 19 ​​of different types of wood - mahogany, cedar, tarara and moradillo - and one of metal. The pieces on show include geometric shapes, a stool, envelopes, chairs and jewelry representative of a stage creative maturity of the sculptor which – in his own words – emerged when he thought in the abstract and "discovered geometry."
His works can be seen in the Museum of the University of Austin, Texas (USA), the School of Architecture and Visual Arts in Brussels, the Ministry of Communications of Japan, the House of Culture in Santa Cruz and various institutions in the city of La Paz.
Marcelo Callaú has said in interviews that the result of his sculpture, which for many years was concentrated on reflecting the human figure, is an optical illusion that deceives the eye feigning volume. "My pieces hint at a volume that does not in fact exist. The effect just appeared, I did not force it."
In 1961, Marcelo Callaú received first prize in Mixed Technique at the Municipal Salon of Santa Cruz and in 1977 in the INBO Bienal in La Paz. He won the prize for non-traditional technique in the First Plastic Arts Biennial in Santa Cruz and in 1979 first prize for collage at the Second Plastic Arts Biennial in Santa Cruz.
The exhibition in his honor can be seen by the people of La Paz until April 6 in Artespacio CAF at Avenida Arce Nº 2915 (San Jorge).