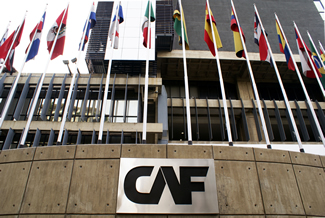 CAF debuts in Hong Kong with 10-year issue
March 22, 2012
The operation was for HKD 400 million.
The Latin American development bank is expanding its investor base in Asia.
(Special, March 22, 2012).- A historic issue for HKD 400 million (equivalent to US$51.5 million) was placed by CAF - Latin American development bank – on the Hong Kong market. The operation, led by HSBC, was at a rate of 4.03% on a 10 year term, the longest-dated offering by a Latin American issuer in this important Asian market.
CAF is the first Latin American institution to place bonds in Hong Kong since 2006 - and the first multilateral in the last two years.
"This successful operation reflects the ongoing expansion of the CAF investor base in Asia, region with which we have significantly deepened our ties in recent years, achieving an important intermediation of funds in favor of Latin America," Enrique Garcia, CAF president & CEO, said.
The Latin American financial institution plans to place issues in 2012 for a total close to US$2.00 billion. With this operation on the Hong Kong market, issues already total US$370 million in loans this year.
The funds generated through its program of placement will facilitate execution of the institution's integrated agenda for sustainable development in Latin America.
CAF is one of the Latin American debt issuers with highest ratings, being recognized as having excellent financial indicators, a sound legal structure and the permanent commitment of its shareholders.