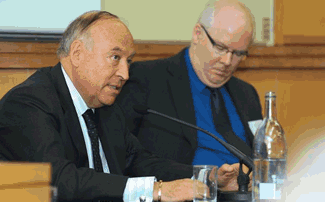 CAF promotes Latin America in the U.K.
March 12, 2012
During his visit to Oxford and London, CAF President Enrique García carried out a series of activities that reaffirm the bank's commitment to strengthening Latin American-European relations.
Enrique García met with political, academic and financial leaders in the U.K.
(Special, March 12, 2012). CAF President Enrique García completed a sixday visit to the U.K. with the goal of strengthening the multilateral financial institution's presence in the country, a major financial and academic center, through his participation in a series of events to promote Latin America's global presence.
"We are Latin America's development bank and, in that regard, we honor our responsibility of acting as a catalyst in approaching other regions, as well as being a major knowledge generator on development issues, with the goal of boosting Latin America's international projection," Mr. García said during his tour of the U.K.
The first CAF-Oxford University conference, entitled "Latin America in a New World Economic Order: Toward a New Model of Development" was the first activity in a series focused on promoting the region and analyzing the main challenges it faces to attain sustainable development and a more effective international insertion.
More than 250 experts, academics, public and private sector executives, businessmen and members of the global financial community attended the event, as well as political analysts and journalists.
Mr. García opened the conference with a lecture on "The development challenges in Latin America." Enrique Iglesias, Martín Torrijos, Angus Lapsley, José Antonio Ocampo, João Carlos Ferraz, Leonardo Villar, Manuel Alcántara, Nora Lustig, Martín Tanaka, Timothy J. Power, Alicia García-Herrero, Rosemary Thorp, Gabriel Palma, Laurence Whitehead, Maxine Molyneux, Diego Sánchez-Ancochea, Germán Ríos and Michael Penfold were among the experts and academics who participated in the event.
In addition to it, a conference was held in London on Feb. 20 entitled "Learning from Latin America: debt crises, debt rescues and when and why they work", organized by the University of London's Institute for the Study of the Americas, with support from CAF.
The conference gathered academics and professionals profoundly knowledgeable about Latin America's past debt crises and rescues, who addressed an audience interested in the current European crisis.
In his final message, Mr. García noted Latin America's evolution and learning process, pointing out that sharing those experiences may help other regions' economies recover faster.
This conference captured the attention of British media, including The Guardian, which in a lengthy article pointed out the lessons learned by Latin America and urged European analysts to take them into account in the management of the current crisis.
Mr. García was also the main speaker in a special session on Feb. 21 at Canning House, a London think tank focused on Latin America, where he discussed growth and opportunities in the dynamic economic relations between Latin America and Asia, which Europe follows with interest.
At the London School of Economics, Mr. García gave a lecture on Latin America's future challenges. He also had a work meeting at the Foreign Office.
Infrastructure as development determinant
CAF was also present at the Global Infrastructure Leadership Forum in London on Feb. 22-24. Mr. García, among the main speakers, said infrastructure investment is a key determinant for the region's development and integration, therefore being a priority in the comprehensive development model that CAF promotes for Latin America.
In fact, CAF is today the main multilateral financing source for infrastructure and energy in Latin America. Last year, it devoted 50% of its approvals to financing economic infrastructure and integration, 30% to social and environmental development, and 20% to the development of sectors that generate economic growth.
This year's edition of the forum was entitled High Value Projects, High Level Alliances, World Class Expertise.