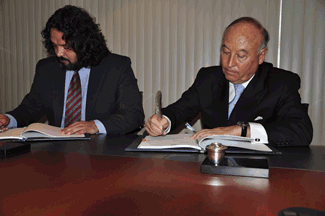 Funds for upgrading roads in Ecuador
March 06, 2012
Los Valles Road Integration Project - Ruta Viva - promoted by Quito municipality - will be executed with CAF support.
The project has received two loans totaling US$151.5 million.
Ecuador's ambassador to Venezuela and the CAF president signed a US$45.5 million loan agreement to upgrade roads in densely populated areas of Guayaquil.
(Caracas, March 6, 2012).- Quito Municipality is implementing the Los Valles Road Integration Project, better known as "Ruta Viva" to improve the quality of life of the city's inhabitants. CAF – Latin American development bank - today approved US$100 million for the second phase of the project which joins the US$51.5 million granted in the past.
In another development, CAF President & CEO Enrique García and Ecuadorian Ambassador in Venezuela Ramón Torres signed a loan agreement for US$45.5 million to support Guayaquil Municipality in implementing the Program of Road Works in Densely Populated Areas of the city.
During the signing García stressed the importance of both operations."Execution of projects such as "Ruta Viva" or the Guayaquil road works are high on the CAF agenda because they have a direct impact on improving the quality of people's lives."
Ecuador's ambassador in Venezuela said that projects like those being executed in Quito and Guayaquil were very important for his country. Along with Cuenca, these cities have grown significantly and require investments to upgrade and adapt their road systems to the needs of residents.
"Ruta Viva" will reduce traffic congestion in the Cumbayá and Tumbaco valleys, open a rapid route between the valleys and the city of Quito, and provide additional services for infrastructure related to the movement of passengers and freight.
The project, supported since its inception by CAF, is a key priority component of the Quito Metropolitan District Road Plan since it opens an access route for the inhabitants of Cumbaya and Tumbaco valleys and future users of the city's new international airport.
The executing agency is the Empresa Pública Metropolitana de Movilidad y Obras Públicas (EPMMOP) through the Quito Municipality Special Road Projects Unit.
US$45.5 million to upgrade roads in densely populated of Guayaquil
The loan agreement signed today at CAF headquarters in Caracas is in response to the demand created by the growth of the city and will contribute to the integrated improvement of vehicle traffic and community health in the area of the most vulnerable population, especially the Northeast (Paschal parish), and Southeast and West (Tarqui, Febres Cordero, Latamendi and Ximena parishes).
The works include construction and rehabilitation of road infrastructure, building of a market and additional civil works in various low-income areas. Specifically, CAF will finance five of the 11 projects in the program covering civil works, and environmental supervision and management plan.