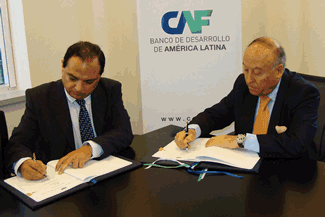 Improvements for Bermejo River Basin
March 30, 2012
Funds approved for a system of information on the Bermejo river basin, natural disaster mitigation and support for sustainable development.
The Bermejo is one of the main rivers of the River Plate Basin between Argentina and Bolivia.
(Special, March 30, 2012). - "The Bermejo River Basin Water Resources Multiple Use Plan will receive technical assistance under the agreement signed by
COREBE
and CAF - Latin American development bank.
The funding will be used to define the typology and location for the integrated use of the river with a view to increasing the impact on development of the Basin.
Jorge Edgardo Castilian, president of COREBE (Bermejo River Regional Commission) and Enrique Garcia, CAF president & CEO, signed the agreement which is part of a series signed with the Argentine government during the CAF president's recent visit to that country. The agreements aim to promote economic, social and infrastructure projects in favor of regional integration and improving the quality of life of the population.
The non-reimbursable funds for this project will be used to develop an information system that synthesizes land, climate and hydrographic data, along with mitigation of the negative impacts of floods and droughts, evaluation o f hydropower potential and identification of interventions for sustainable development.
The Bermejo River, a tributary of the River Plate Basin, rises in southern Bolivia, crosses four provinces of northern Argentina and finally flows into the Paraguay River. The population of the Bermejo Basin is estimated at 1.5 million.