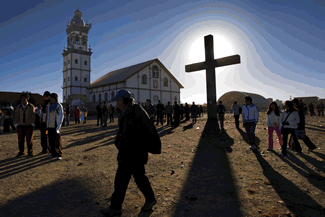 Los Alteños" photographic exhibition visits Santa Cruz
March 08, 2012
The show brings the people of Santa Cruz closer to the reality and contrasts of El Alto - Bolivia's second most populous city - which recently celebrated its 27th anniversary.
The photos are taken from the "Los Alteños" book published with CAF support.
(La Paz, March 8, 2012).- "Los Alteños" exhibition of photographs by Bolivians Patricio Crooker and Alfredo Zeballos opened March 7 in the "Raúl Otero Reiche" Municipal House of Culture in Santa Cruz.
CAF has been supporting this project for some time. The exhibition was first seen in La Paz in September 2011 in CAF Artespacio when Emilio Uquillas, director representative of the institution in Bolivia, participated in the opening.
The photographs rescue the experiential heritage of one of the most unique cities in South America, characterized by an admirable spirit of growth and its establishment by the migration of settlers from the altiplano to urban areas.
"The exhibition is notable for its high artistic sensitivity toward a magical, diverse and dynamic city, and is structured to give the public an appreciation of the landscape, people, daily life, cultural scene and other facets of Bolivia's youngest city," Uquillas said.
The exhibition includes a collection that shows the reality and contrasts of the city of El Alto, altitude 4,000 meters, with images that reflect the commercial vocation of its people in the traditional "16 de Julio" trade fair and other activities such as sports, fiestas, folklore, art and culture.
The portraits on display are taken from the book "Los Alteños" published in 2010 with CAF support, produced by Crooker and Zeballos with journalist Mario Roque and communicator Gabriela Romero.
A round table will be held today to analyze and discuss the exhibition and the reality of this city with the participation of El Alto political activist Soledad Chapetón, well-known actor Juan Carlos Aduviri, and special guests from the cultural world of Santa Cruz.