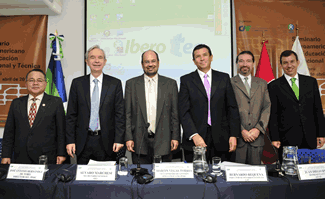 Seminar reflects on vocational and technical education
April 24, 2012
CAF and the OEI organized the Ibero-American Seminar with representatives from five continents.
Experts said the region is making great efforts to modernize and improve the relevance of its vocational and technical education.
(Lima, April 24, 2012). National and international experts were invited by CAF - Latin American development bank - and the Organization of Ibero-American States (OEI) to participate in the Ibero-American Seminar on Vocational and Technical Education, held on April 23 and 24 in Lima, with the aim of generating synergies and building a platform for dialogue and exchange of information among countries in the region, based on advances and innovations in this sector.
Experts from Australia, Argentina, Chile, Colombia, Spain, Peru, Mexico, Uruguay and Venezuela, as well as Africa and Southeast Asia, participated in the meeting which was opened by the Peruvian vice minister of Educational Management, Martín Vegas Torres; the secretary general of the Organization of Iberoamerican States (OEI), Alvaro Marchesi; and CAF Social Development director, Bernardo Requena.
With this initiative, CAF and OEI offered a space for reflection and analysis of the scope and results of the actions taken with a view to developing proposals to strengthen countries'capacities in this area. The seminar laid the groundwork for a network of cooperation with international participants and experts in vocational and technical education.
The meeting analyzed, among other things, the role of technical education as part of learning for life and work transition, mechanisms for skill identification, training of job trainers, and vocational and technical education and developments in science and technology.
The experts said the countries of the region were making significant efforts to modernize and improve the relevance of their vocational and technical education. However they agreed on the need to continue working on formulation, implementation and evaluation of policies to strengthen this type of education and on ways to expand and bring its range into line with national development agendas.
CAF and OEI are actively supporting the countries of the region in developing policies and actions to strengthen vocational and technical education. In Peru, CAF has supported the Peruvian government in evaluating the basic curriculum design for higher public technological colleges, in Colombia finance was provided for a project to modernize technical and technological education, while in Argentina a loan was recently approved for school building, including technical education infrastructure.
OEI has been preparing and distributing reports on professional technical education, including diagnostics and quality management models. The international organization has also designed and organized training for those implementing the reform of this sector of education in Latin American countries, as well as setting up a reference center in Peru for development of vocational training in information technology, IBEROTEC.
CAF's mission is to stimulate sustainable development and regional integration by financing projects for the public and private sectors through technical cooperation and other specialized services. Established in 1970, today CAF has 18 member countries -16 in Latin America and the Caribbean together with Spain and Portugal – along with 14 private banks. The development bank is one of the region's main sources of multilateral financing and an important generator of knowledge for the region. More information at www.caf.com