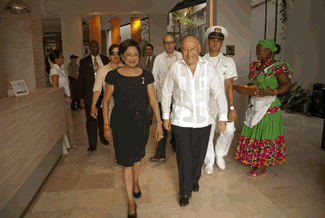 Trinidad and Tobago becomes new full member of CAF
April 13, 2012
With an agreement signed ​​by the prime minister of this nation and the CAF president, Trinidad and Tobago joins the financial institution as full member.
(Cartagena, Colombia, April 13, 2012).- Kamla Persad-Bissessar, prime minister of the Republic of Trinidad and Tobago, and Enrique García, president & CEO of CAF - development bank of Latin America and the Caribbean - signed an agreement for this country's full membership of the financial institution.
During the ceremony, held during the VI Summit of the Americas in Cartagena, Colombia, the prime minister said the signing was valuable since it "will open permanent access for Trinidad and Tobago to long-term finance and technical cooperation for sustainable development. It will also "provide an opportunity to strengthen South-South cooperation, open new markets and promote the country's presence at regional level."
García said he was very pleased with the new membership, which is "a clear expression of the political will and interest of the government of Trinidad and Tobago to strengthen its relations with Latin American countries and links of work and cooperation with CAF." "Our institution is called on to play a central role in promoting regional development and integration, especially in the ever closer relations between the Caribbean and South America."
The CAF president added that the signing reflects the confidence of Trinidad and Tobago in CAF. "It is recognition of the contributions that the development bank is making with an integrated approach through provision of financial services, and also as a think tank, as a bridge between the region and the world, and as an important source of non-reimbursable technical cooperation."
He also announced during the event the future opening in Port of Spain of the CAF Regional Office for the Caribbean. The new office will have a key mission in the financing of strategic projects for Trinidad and Tobago in both the public and private sectors, as well as contributing to the Trinidadian government's efforts to establish a center for international business. It will also be a platform for closer economic ties and cooperation between CAF and other Caribbean nations and regional bodies, such as CARICOM and the Association of Caribbean States (ACS).
Since joining as a shareholder in 1994, Trinidad and Tobago has strengthened its relations with CAF. The amendment to the CAF Establishing Agreement in 2008 opened the way for the full membership of all Latin American and Caribbean countries with the same rights as the founding partners. Currently, of the 18 member countries, the full shareholders are Argentina, Bolivia, Brazil, Colombia, Ecuador, Panama, Paraguay, Peru, Uruguay and Venezuela, now joined by Trinidad and Tobago.
With this signing, the paid-in capital of Trinidad and Tobago in CAF is raised to US$332.4 million.