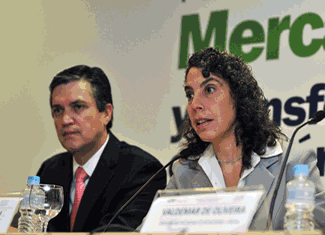 Avina and CAF promote inclusive markets in the region
May 08, 2012
Latin American experts exchange experiences of inclusive businesses as a strategy for promoting sustainable development
(Lima, May 8, 2012). - To share learning, methodologies and highlight the positive impacts of inclusive businesses, as an innovative strategy to promote market-based sustainable development, CAF - development bank of Latin America - and AVINA Foundation organized the
International Forum "Inclusive Markets and Productive Transformation in Latin America."
The event was held in Lima on May 8 with experts from countries of the region and 250 participants.
The Forum was opened by the Peruvian minister of Social Development and Inclusion, Carolina Trivelli; CAF vice president of Social Development, José Carrera; director of AVINA Continental Initiatives, Valdemar de Oliveira; executive director of the National Competitiveness Council, Angélica Matsuda; and the regional director of SNV, Reintje Van Haeringen.
After reaffirming the Peruvian government's clear commitment to promoting and developing inclusive businesses, Carolina Trivelli said her ministry's mission was to ensure that when these markets are available, all citizens can put them to the test. "Our commitment is to the market as a mechanism for promoting integration and inclusion."
José Carrera said the world was now engaged in a discussion and reflection on inclusive development, especially in Latin America where, although poverty levels have been falling, situations persist such as a widening inequality and exclusion gap, slow growth of cities in relation to the growth of countries and rising youth unemployment.
According to Latinobarómetro, he added, 21% of young people in the region neither study nor work; however in the 2020-2025 period the regional labor force is projected to peak giving a "demographic dividend" which gives Latin America the possibility of greater productive capacity.
Carrera said CAF had an important role to play in dealing with these problems, which is why the development bank has been financing projects in the infrastructure and education sectors to support the countries of the region, along with productive projects in the areas of influence of megaprojects."These actions are not only a good neighbor policy but a commitment to society."
Success stories
During the International Forum, about 250 Latin American representatives – from government institutions, private companies, civil society organizations, international cooperation and academic institutions – shared success stories of inclusive businesses, creation of investment funds and making productive public policies in Latin America, with the aim of replicating these practices in the region.
The Forum opened a space for dialogue to highlight the development of inclusive businesses as facilitators of local and regional economies, reflect on the importance of incorporating strategies into the policies for promoting productive development, and build bridges and partnerships between the three sectors in order to make this exchange viable.
The keynote speech of the Forum - "Inclusive businesses and shared value" - was given by Dane Smith, director of Foundation Strategy Group. Other subjects covered included experiences of companies that promote inclusive markets, success stories told by entrepreneurs, and Impact Investment as an alternative for takeoff of inclusive businesses with high potential. The panels were formed by experts from Bolivia, Brazil, Colombia, Chile, Ecuador, Nicaragua, Peru, Switzerland and Venezuela.
Avina's mission is to contribute to sustainable development in Latin America by encouraging constructive alliances based on trust among social and business leaders, and by building consensus around agendas for action. Founded in 1994, Avina is a Latin American organization with institutional presence in 15 countries in the region where it promotes social transformation agendas in cooperation with over 4,500 partners from the three sectors. For more information visit www.avina.net